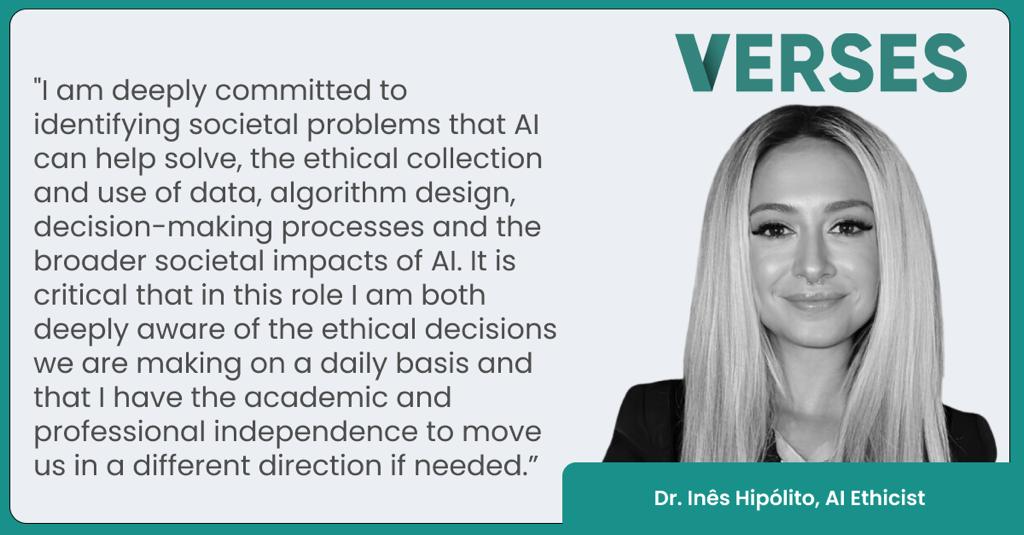 Vancouver, BC – 10 August  2023 – (GLOBE NEWSWIRE) – VERSES AI Inc. (CBOE:VERS) (OTCQX:VRSSF) ("VERSES" or the "Company"), a cognitive computing company specializing in the next generation of artificial intelligence, strengthens its commitment to ethical AI by proudly introducing Dr. Inês Hipólito as AI Ethicist.
Dr. Hipólito, an internationally renowned researcher in cognitive neuroscience and AI, brings her knowledge and experience to VERSES, championing the integration of ethical considerations, inclusivity and environmental responsibility in AI design.
In her role at VERSES, Dr. Hipólito will drive the company's commitment to ethical AI development, minimizing social exclusion, promoting transparency, inclusivity and preserving the natural world.
"Dr. Hipólito's appointment underscores our unwavering shift towards  identifying societal challenges as opportunities for responsible and mission-driven AI development, prioritizing social inclusivity, diversity and belonging in AI design," says Gabriel René, CEO of VERSES. "Her philosophy aligns with our vision for responsible and inclusive AI development. We firmly believe that her expertise will greatly advance our mission to revolutionize technology while respecting diversity, human rights and the environment."
Dr. Hipólito's research focuses on the complex relationship between cognition and AI, exploring how the sociocultural environment shapes cognitive development and AI design. As VERSES' AI Ethicist,  Dr. Hipólito will focus on four core areas:
Minimizing Social Exclusion: Dr. Hipólito will lead efforts to ensure that VERSES' AI technologies work to minimize exclusion. She will guide the team in developing systems that are fair, inclusive and provide equal opportunities for all individuals, regardless of their social standing.
Explainability and Transparency: Under Dr. Hipólito's stewardship, VERSES will strive for greater transparency and explainability in AI systems' development including accountability mechanisms to address any unintended consequences or biases.
Inclusive Design: Championing a collaborative approach, Dr. Hipólito will oversee the implementation of an inclusive design process. This will involve diverse stakeholders and encourage a broad spectrum of perspectives to eliminate potential biases and address unique challenges.
Protecting the Natural World: Respecting the ecological balance, Dr. Hipólito will steer VERSES AI development toward environmental sustainability. This entails examining the environmental impact of VERSES AI technologies and promoting practices that minimize harm to our planet.
Currently a Lecturer of Philosophy of AI at Macquarie University in Sydney, NSW, Australia and a researcher at Ethics and Agency Research Center, Dr. Hipólito has had an illustrious academic career. Her work has been featured in numerous scientific journals and she has co-edited several significant collections. She has also received 19 research awards and was granted the prestigious Talent Grant from the University of Amsterdam in 2021, where she conducted a research project on the positive and negative impacts of smart environments employing active inference models. Her profound insights and dedication to promoting ethical AI practices made her a sought-after voice in science magazines and podcasts appearances.
Dr. Hipólito is also co-founder and vice-president of the International Society for the Philosophy of the Sciences of the Mind and the founder / host of  The PhilospHER's Way, a podcast aimed at challenging the dominant way of philosophical thinking. Her dedication to philosophy and research ethics is highlighted by her service on the Women in Philosophy Committee and the Committee in Diversity and Inclusivity at the Australasian Association of Philosophy from 2017 to 2020.
Dr. Hipólito held a postdoctoral and lecturer position at the distinguished Berlin School of Mind and Brain and the Philosophy Department at Humboldt-Universität zu Berlin. She then became a Co-Principal Investigator of a consortium project "Exploring and Designing Urban Density, Neurourbanism as a Novel Approach in Global Health," funded by the Berlin University Alliance.
"I am deeply committed to identifying societal problems that AI can help solve, the ethical collection and use of data, algorithm design, decision-making processes and the broader societal impacts of AI." said Dr. Hipólito.  "It is critical that in this role I am both deeply aware of the ethical decisions we are making on a daily basis and that I have the academic and professional independence to move us in a different direction if needed.  VERSES has been very clear that we are aligned on this approach from the beginning."
Originally Posted: https://www.verses.ai/press-2/dr.-in%C3%AAs-hip%C3%B3lito-joins-verses-as-artificial-intelligence-ai-ethicist