World's third largest gold miner also announces $500-million share buyback and dividend hike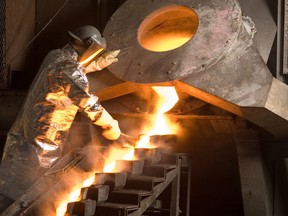 Toronto-based Agnico Eagle Mines Ltd. announced the surprise exit of its recently appointed chief executive, Tony Makuch, amid a fourth-quarter earnings miss.
Its stock climbed briefly anyway, up two per cent to $69.83 per share Thursday morning, as rising concerns about inflation, combined with Russia's invasion of Ukraine, pushed up commodity prices, including gold, which has risen six per cent since the beginning of the month to US$1,902 per ounce.
By Thursday afternoon, however, the stock was down almost 6 per cent at $65.80 and gold was down 1.12 per cent at US$1,889.
Makuch had joined Agnico as chief executive as a result of the company's US$13.5 billion merger with Kirkland Lake Gold Ltd., completed earlier this month, where he had also been at the helm. Makuch was replaced as CEO by Agnico's longtime president Ammar Al-Joundi, who was considered a top candidate for the job before the merger, while former CEO Sean Boyd was named executive chairman.
"I don't think there's a story," Boyd said in an interview, when asked about Makuch's exit. "As we looked at it through the transition, looked at the opportunity set, collectively looked at the team, we collectively made a decision that the team that is best positioned to deliver on the opportunity is the team that is presented."
Boyd declined to explain the reason for the exit, and praised Makuch, saying his leadership at Kirkland Lake laid the foundation for the value that was created by the merger. The combination made Agnico the third largest gold miner in the world, capable of producing 3.3 million ounces per year, with most of its assets in Canada.
Neither Al-Joundi, who started a second stint at Agnico in 2015 and had been overseeing operations, nor Makuch, were available for comment.
"We are surprised by Mr. Makuch's sudden departure as he was announced as the new Agnico's incoming CEO in September 2021 ," Fahad Tariq, a Credit Suisse analyst, wrote in a note. Still, Tariq added that he believes "investors will view Mr. Al-Joundi's appointment positively," and wrote that there were "many moving parts" in the company's earnings announcement.
The company provided guidance that suggests production in 2022 will reach 3.3 million ounces, and said cash costs are expected to decline 1.5 per cent year over year, and will continue to fall in the years ahead as synergies from the merger kick in.
But the 501,000 ounces of gold that the company produced in the fourth quarter fell short of consensus estimates of 513,000 ounces; as did its adjusted earnings of US$0.46 per share against consensus estimates of US$0.57.
The company attributed lower gold production, and higher costs, to the effects of Omicron: In December, despite testing, the company recorded 13 cases at its three mines in Nunavut. As a result, the ​​Nunavummiut workforce returned to their communities, but the company continued to pay them, and it also drastically reduced its operations there.
Boyd said the combination slowed gold production and raised costs.
"We can't predict if there's another wave, two to three months from now, but we know how to manage these waves," he said, adding that the local workforce in Nunavut would return to its mines within weeks.
Despite rising gold prices, Boyd said his company is still trying to attract investors, and the company announced it would implement a US$500 million share buyback program in 2022. That follows similar share repurchase programs by Toronto-based Barrick Gold Corp. and Colorado-based Newmont Mining Corp., the two largest gold miners in the world.
Agnico also raised its dividend to 40 cents, from 35 cents, per quarter, marking the 38th consecutive year it has issued a cash dividend.
"Good companies pay dividends, have strong balance sheets and know how to manage risks," Boyd said.
The fact that gold companies are using share buybacks and dividends to lure back investors is one indication that gold executives believe their stocks don't yet reflect the increased free cash flows that have come as the price has risen.
Meanwhile, the gold outlook is fairly positive, according to Juan Carlos Artigas, head of research at the world gold council.
Article content
Investors look to gold as a store of value during times of inflation, and as a hedge against risk from geopolitical tensions, such as Russian attacks on Ukraine.
"It's one of the vehicles that investors use to hedge against risk," Artigas said.
Still, he acknowledged that rising interest rates would also create headwinds for gold prices.
Shaun Usmar, chief executive of Toronto-based Triple Flag Precious Metals Corp., a streaming company which helps finance gold mining projects, said the gold mining equities have underperformed gold.
Several years ago, he said gold mining companies were striking deals with streaming and royalty companies such as his own — in which they sold a portion of the metal produced at a mine, or agreed to give a percentage of the revenue, in exchange for cash — as a means to pay down debt.
Article content
"We're seeing less balance sheet repair," Usmar said.
Instead, he said he's hoping to tap into investor excitement around battery metals and electrification: Although gold is used in circuitry, Usmar described something else. He noted some of the largest gold mines today are actually polymetallic deposits where gold sits alongside copper.
Because copper miners have little interest in gold, and may even trade at a higher multiple than gold miners, there is a natural opportunity for a "symbiotic relationship," he said, in which gold streaming companies help finance mine construction in exchange for the gold.
"I think that represents a really interesting opportunity set, both for this type of funding and as a means to help symbiotically fund the next generation of mines," said Usmar.
• Email: gfriedman@postmedia.com | Twitter: GabeFriedz
Financial Post Top Stories
Sign up to receive the daily top stories from the Financial Post, a division of Postmedia Network Inc.
By clicking on the sign up button you consent to receive the above newsletter from Postmedia Network Inc. You may unsubscribe any time by clicking on the unsubscribe link at the bottom of our emails. Postmedia Network Inc. | 365 Bloor Street East, Toronto, Ontario, M4W 3L4 | 416-383-2300