As soon as the Fed stops hiking rates, 'gold is going to be unleashed'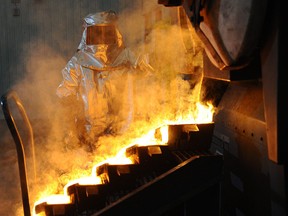 The CEO of Agnico Eagle Mines Ltd., the largest producer of gold in Canada, said he's confident that gold prices will break out of a months-long slump, and characterized his investment in a Mexican copper project as opportunistic, not a pivot from precious metals.
Gold appears to be suffering because the U.S. Federal Reserve and other central banks have been raising interest rates so quickly in recent months, making fixed-income assets such as bonds more attractive. As soon as the Fed stops raising interest rates, "gold is going to be unleashed and it's going to go up," Agnico chief executive Ammar Al-Joundi said by phone from the sidelines of the Gold Forum Americas conference in Denver.
FP Energy
By clicking on the sign up button you consent to receive the above newsletter from Postmedia Network Inc. You may unsubscribe any time by clicking on the unsubscribe link at the bottom of our emails. Postmedia Network Inc. | 365 Bloor Street East, Toronto, Ontario, M4W 3L4 | 416-383-2300
The Fed raised its benchmark interest rate by three quarters of a percentage point this week, the third consecutive time policymakers have opted for an outsized increase, reflecting their struggles to contain the burst of inflation that came with the recovery from the COVID recession. The Fed's updated forecast suggests the benchmark rate could exceed 4.5 per cent by next year, compared with about 3.25 per cent currently.
Inflation, which is hovering around eight per cent in the United States, typically is good for gold investors and miners, as the metal is seen as a haven from volatility. However, the central banks have changed that narrative with their uncharacteristic aggression, at least for now. The price of gold has dropped nearly 20 per cent since the beginning of the year to US$1,674 per ounce. The share price of Agnico is down 33 per cent since April to $55.28.
Al-Joundi noted that gold has fared better as a store of value when measured against the Canadian or Australian dollar than it has against the U.S. dollar, which is considered the benchmark. Although smaller volumes of gold are traded in currencies other than the U.S. dollar, companies such as Toronto-based Agnico, which produces most of its gold from mines in Canada, still face most of their costs in Canadian dollars and thus are highly affected by the price of gold in that currency. . Al-Joundi said he expects the rebound in gold prices to commence in either late 2022 or the first half of 2023, but added, "we don't have a crystal ball and of course, we tend to be more optimistic."
Agnico, like other gold miners, is seeking to create a hedge by expanding its exposure to copper and other metals. The company recently committed at least $580 million to form a joint venture with Vancouver-based Teck Resources Ltd. to develop the San Nicolas copper-zinc project in Zacatecas, Mexico.
Both metals currently constitute a negligible portion of the Agnico's portfolio. Al-Joundi, who took over as CEO in February, described the project as "goldilocks" — not too big, not too small, but just right.
Industry studies have consistently shown that the average grade of gold mines is declining, leading many gold mining executives to lament that it is becoming harder to find large gold deposits. In recent years, other companies, such as Toronto-based Barrick Gold Corp., the second largest gold miner in the world (Agnico is third), has said it would likely produce more copper both because it is a strategic metal necessary for the energy transition, and because it is often found alongside gold in very large deposits.
But Al-Joundi said Agnico invested in San Nicolas for entirely different reasons. First, it has strong economics, with a 2021 prefeasibility study indicating that an open pit mine, producing 63,000 tonnes of copper and 147,000 tonnes of zinc per year, would provide a 33 per cent internal rate of return.
But perhaps more importantly, Al-Joundi said Agnico invested because its strategy is to develop expertise within regions, and the company already mines gold and silver in Chihuahua State in northern Mexico. That allows the company to develop relationships with local governments and contractors and communities.
"Our philosophy is very conservative," said Al-Joundi. "We don't see ourselves as a global gold mining company, we see ourselves as a regional gold mining company."
That is, the company looks to build multiple mines in the same region. Currently it has 11 mining operations clustered in five areas —Australia, Ontario, Nunavut, Mexico and Finland.
Al-Joundi said the company's 2021 acquisition — or merger, as Al-Joundi calls it — with Kirkland Lake Gold Ltd., was about consolidating the gold mines in the Abitibi region, which runs through Ontario and Quebec.
"If you asked me why we're the best miners in the Abitibi, well, simple, it's experience," said Al-Joundi. "We've been there for 60 years. We know all the contractors. We know all the suppliers — half the time we helped their grandfather start that business. You know, we know all the juniors better, we know the permitting process better. It just comes from experience."
Recommended from Editorial
Western Australia, where Kirkland operated its Fosterville mine, considered one of the highest grade gold mines in the world, still remains largely unconsolidated, Al-Joundi noted.
But investing with Teck in Mexico gave it a chance to expand its presence in the region while diversifying its portfolio by adding a metal that has a favourable outlook.
"Our strategy is not just us pounding our chest," said Al-Joundi. "It's a strategy that says, `Go to the best.' Go to places in the world where you know there's geologic potential, where you know you can operate for a long time and therefore, build a competitive advantage."
• Email: gfriedman@postmedia.com | Twitter: GabeFriedz