Comes four months after a flash flood killed eight miners at the company's Perkoa mine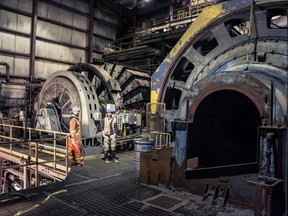 Two employees of Vancouver-based Trevali Mining Corp. have been detained by authorities in Burkina Faso four months after a flash flood killed eight miners at the company's Perkoa mine in the West African country.
Law enforcers detained a manager from the mine and the company's mining contractor pending a trial on charges related to the flood, according to Trevali. Unexpected flash floods caused by unseasonal rainfall on April 16 breached the Perkoa mine's property and safety controls.
Located about 120 kilometres away from the capital city of Ouagadougou in the Sanguie province, the underground mine, which produced about 316.2 million pounds of zinc in 2021, has remained suspended ever since.
"The company is working with its legal representatives to seek the release of the detained individuals," Trevali said in a statement on Monday.
Trevali also announced that trading of its common shares on the Toronto Stock Exchange has been halted after the company filed an application for creditor protection under the Companies' Creditors Arrangement Act (CCAA). Trading is also expected to stop on the Lima Stock Exchange, OTCQX and Frankfurt Stock Exchange.
CCAA allows companies to restructure and carry on their business while avoiding the "social and economic consequences of bankruptcy."
On Friday, Trevali said it had received an initial order under the CCAA from the Supreme Court of British Columbia, which includes a stay on creditor claims and FTI Consulting Canada Inc. being named the company's court-appointed monitor.
Trevali failed to make a mandatory $7.5-million prepayment on its revolving credit facility in mid-August, analysts said. In addition, its entire credit facility is set to mature on Sept. 18.
Article content
"Given these significant near-term debt maturities, we had been questioning the company's ability to operate as a going concern beyond quarter three, 2022," Orest Wowkodaw, an analyst at the Bank of Nova Scotia, said in a research note on Sunday.
According to Trevali, filing an application for creditor protection under CCAA was in the "best interests" of the company and its stakeholders.
Aside from the suspension of the Perkoa mine, the company has halted its Caribou zinc mine in New Brunswick due to financial challenges. Its Rosh Pinah zinc mine in Namibia continues to operate.
The company on Monday also said two of its directors, Nick Popovic and Aline Cote, had resigned from the board.
Prior to the stoppage on the TSX, Trevali shares were trading at 20.5 cents, within a 52-week trading range of 18 cents and $2.70. The company has a market cap of about $20.2 million.
• Email: nkarim@postmedia.com | Twitter: naimonthefield
Financial Post Top Stories
Sign up to receive the daily top stories from the Financial Post, a division of Postmedia Network Inc.
By clicking on the sign up button you consent to receive the above newsletter from Postmedia Network Inc. You may unsubscribe any time by clicking on the unsubscribe link at the bottom of our emails. Postmedia Network Inc. | 365 Bloor Street East, Toronto, Ontario, M4W 3L4 | 416-383-2300