Published Feb 14, 2023 • Last updated 16 hours ago • 2 minute read
Join the conversation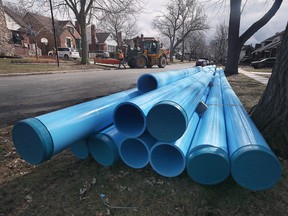 Word that inflation-adjusted costs for decade-long flood mitigation projects may be downloaded onto Windsor taxpayers instead of being covered by the federal government left city council sounding alarm bells this week.
REGISTER TO UNLOCK MORE ARTICLES
Create an account or sign in to continue with your reading experience.
Access articles from across Canada with one account
Share your thoughts and join the conversation in the comments
Enjoy additional articles per month
Get email updates from your favourite authors
Council on Monday voted unanimously to have city staff advocate to local members of Parliament and the minister of intergovernmental affairs for 40 per cent of costs now associated with work to keep basements dry — work that Infrastructure Canada agreed to partially fund in 2018, before high inflation and rising construction and material costs resulted in project prices nearly doubling.
Sign up to receive daily headline news from the Windsor Star, a division of Postmedia Network Inc.
By clicking on the sign up button you consent to receive the above newsletter from Postmedia Network Inc. You may unsubscribe any time by clicking on the unsubscribe link at the bottom of our emails or any newsletter. Postmedia Network Inc. | 365 Bloor Street East, Toronto, Ontario, M4W 3L4 | 416-383-2300
Under the 2018 estimate, Infrastructure Canada would have given Windsor $32 million from its Disaster Mitigation and Adaptation Fund (DMAF), and the city would have paid the remaining $55 million.
Although project tenders have risen to $176 million, Infrastructure Canada is still only willing to hand over the original $32 million, despite its commitment to covering 40 per cent of costs.
Ward 6 Coun. Jo-Anne Gignac called the news "quite a shock." Most of the 19 projects funded in part by DMAF money are in her ward, which saw thousands of basements flooded during two massive storms in 2016 and 2017. Insurance losses as a result of those rainfall events totalled $300 million.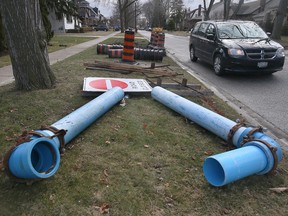 The funding uncertainty prompted city staff to put a few projects on hold, including multi-phase Belleperche trunk sewer work on and around the Clairview Avenue corridor, the St. Paul Pumping Station Expansion, and more.
"All of these projects are intertwined," Gignac said. "We all knew that. Upsizing the trunks and then moving everything towards pumping and increased pumping capacity. So this is very concerning for me — construction on Clairview should start this summer. How long before we're going to hear something or have plans on how we're going to move this forward?
"Residents are concerned, I'll tell you. I'm fielding a number of phone calls with regard to this issue."
With council approval, which was given on Monday night, city administration will "immediately" reach out to Infrastructure Canada for answers, said city engineer Chris Nepszy.
"The urgency to have those discussions with them is high on the list, (as is) figuring out how we're going to proceed with both the timing and the costs," Nepszy said.
Even if the city is successful in securing 40 per cent of current project estimates from the feds, "there's still work to be done," city CFO Joe Mancina told council. The city would have to find another $61 million to cover its 60 per cent of costs — less than the $86 million it will need if Infrastructure Canada refuses to account for inflation, but still "a very significant issue.
"Awarding contracts that are coming in perhaps significantly greater than what our budget called for is (why) we're taking a pause to make sure we get some clarity."
At the request of Ward 9 Coun. Kieran McKenzie, whose constituents also experience basement flooding, the city will also contact the Federation of Canadian Municipalities for further advocacy.
"There are a number of municipalities that are in the exact same boat," McKenzie said. "Maybe there's some strength in numbers that we can think about leveraging."
tcampbell@postmedia.com