Uranium Energy has five business days to match the offer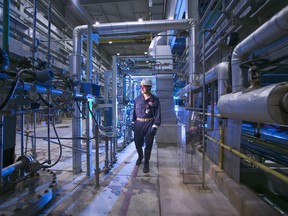 Canadian miner Denison Mines Corp. has entered the race to acquire Saskatchewan-based uranium explorer UEX Corp., offering what it says is a better deal than the one by U.S.-based Uranium Energy Corp. in June.
Denison did not disclose its "superior proposal" but said the acquisition would allow it to own 100 per cent of its flagship Wheeler River project, which it says is the largest undeveloped uranium property in the eastern portion of the Athabasca Basin in northern Saskatchewan. Denison currently has a 95 per cent interest in the advanced project, while UEX owns the rest.
The acquisition would bolster the company's position as a "leading" uranium company in the Athabasca Basin region, Denison CEO David Cates said in a press release.
In June, Corpus Christi, Texas-based Uranium Energy said that it had entered into an all-share deal with Saskatoon-based UEX with an aim to enter the Canadian market and create the largest diversified uranium company in North America. Under the agreement, shareholders of UEX would receive 0.0831 Uranium Energy shares in exchange for each UEX share. The deal marked a premium of about 50 per cent of UEX's TSX shares on June 10.
Uranium Energy has five business days to match the offer. If it doesn't and UEX decides to cancel the offer, then the Canadian miner will have to pay US$8.25 million as termination fee.
Uranium Energy said that it was still in the "driver's seat" and would conduct a "careful analysis" before taking a decision on the acquisition.
"Since announcing the transaction, there has been significant market deterioration in the sector and this has created a broader set of growth opportunities that would be highly accretive and strategic in nature," Uranium Energy CEO Amir Adnani said in a press release on July 28.
Article content
UEX's assets are all in the Athabasca Basin and include a 49.1 per cent interest in the Shea Creek project, which hosts about 67.6 million pounds of uranium in indicated resources and 82.8 per cent ownership in the Christie Lake project that contains 20.4 million pounds of uranium in inferred resources.
Some of its more advanced projects include the Kiggavik and the Millenium, in which the company owns 16.9 per cent and 15 per cent interest respectively. Both these projects are in the feasibility stage, the final phase before a project aims to begin construction.
Uranium producers such as Cameco Corp. have witnessed an increasing demand for the commodity in the past year. In its quarterly call on July 27, Cameco's CEO said that companies struggling to access renewable energy were gradually turning towards nuclear for electricity.
Shares of UEX traded as high as 48 cents in Toronto, their highest since November; they ended the day at 47.5 cents, up 14.5 per cent.

• Email: nkarim@postmedia.com | Twitter: naimonthefield
Financial Post Top Stories
Sign up to receive the daily top stories from the Financial Post, a division of Postmedia Network Inc.
By clicking on the sign up button you consent to receive the above newsletter from Postmedia Network Inc. You may unsubscribe any time by clicking on the unsubscribe link at the bottom of our emails. Postmedia Network Inc. | 365 Bloor Street East, Toronto, Ontario, M4W 3L4 | 416-383-2300