Welcome to your five-minute recap of the trading day, and how the experts saw it.
The numbers: The Australian sharemarket finished Thursday on a flat note, recovering from an early slump to be close 1.8 points, or just 0.03 per cent, higher at 6817.5. The energy sector continued its rally, finishing the day up 2.21 per cent, but its bounce was tempered by broad losses elsewhere, with consumer staples, consumer discretionary and real estate all closing down around 0.8 per cent.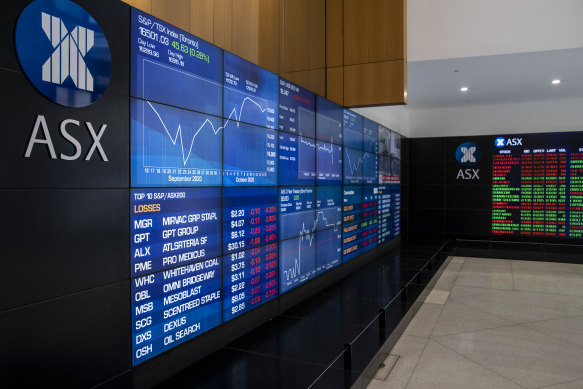 The lifters: Whitehaven Coal rose 7.17 per cent to a fresh high; Pilbara Minerals closed 5.6 per cent higher after hitting a record high of $5.60; and Link Administration jumped 5.14 per cent after confirming it had received a renewed takeover bid from Canadian firm Dye & Durham.
The laggards: AI company Appen closed 11.71 per cent down after downgrading its FY22 profits to significantly below consensus estimates; Magellan lost 8.4 per cent after its funds under management fell almost $6 billion; and gold miner De Grey slipped 2.75 per cent after tapping shareholders for $130 million in fresh equity.
The lowdown: The ASX fell at the open after a poor session on Wall Street overnight sapped the momentum from a two-day rally across global equities, but strong performances from energy stocks helped keep the market from sinking into the red.
Loading
Woodside and Santos were both trading higher as global oil prices jumped by around 1.5 per cent after the OPEC cartel of oil-exporting countries defied western governments by decided to sharply cut production to support sagging oil prices.
Shares in AI crowdsourcer Appen plunged after another earnings downgrade. The stock dropped as much as 18 per cent to a low of $2.73 – it's lowest since 2016 – as the company's profit margins continue to shrink on the back of it receiving fewer high-margin, large contracts from the likes of Facebook, Google and Microsoft
Meanwhile, Magellan Financial Group's share price fell by more than 8 per cent on Thursday after the fund manager announced a $6.7 billion drop in funds under management. Total FUM now stands at $50.9 billion, down from $57.6 billion at the end of August.
Jun Bei Liu, portfolio manager at Tribeca Investment Partners, said investors would be looking for some reassurance from recently appointed chief executive David George at the fund's annual general meeting later in October.
"I think the strategic update is very important to restore some sort of confidence," she said.
"Right now, we just haven't really heard about the new strategy, the new team and their vision."
Liu said it was very difficult to stop such outflows once investors started withdrawing en masse, and said Magellan's funds under management were likely to continue trending downward.
Loading
"Based on the current speed of outflow, it doesn't seem like it is slowing down," she said. "So you will always get consensus downgrade further, much lower than what it is today."
Stocks fell in afternoon trading on Wall Street on Wednesday in New York and gave back some of their big gains from earlier this week as rising bond yields amp up pressure on markets again.
The S&P 500 closed 0.2 per cent lower. The benchmark index is coming off its best two-day rally since the spring of 2020. The Dow Jones dropped by 0.1 per cent and the Nasdaq shed 0.2 per cent.
Stocks are "in the midst of a tug war between reality and expectations," said Terry Sandven, chief equity strategist at US Bank Wealth Management.
Wall Street will get a more detailed look at employment in the US on Friday with the government's monthly jobs report for September.
Tweet of the day:
Quote of the day: "There's no honour in the government standing by what in truth is really a very dodgy commitment and hardly an unbreakable one in current circumstances." Former Reserve Bank governor Bernie Fraser said it would be unfathomable for Labor to stand by its pre-election commitment to go through with stage three tax cuts given the changing economic circumstances.
You may have missed: Companies in industries with the biggest carbon footprints are failing to report how their climate profiles feed into financial risk, according to an analysis of 134 annual corporate reports by the Carbon Tracker Initiative. Almost all companies spanning fossil fuels, mining, manufacturing, automotive and technology were failing to show they considered the financial impact of material changes in climate, while auditors were also generally ignoring the financial risks of emissions, according to the study published on Thursday.