Drop in Gold Fields stock leading analysts to question the deal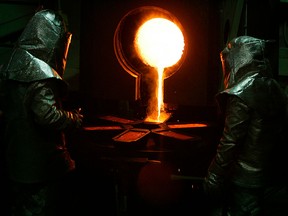 Gold Fields Ltd. chief executive Chris Griffith called his purchase of Yamana Gold Inc. the "optimum solution" to support his new business strategy.
Investors aren't so sure. Gold Fields shares dropped 23 per cent after Griffith announced his proposed $6.7 billion acquisition of Toronto-based Yamana last week, putting management on the defensive.
Griffith, who was appointed CEO of Gold Fields a year ago and has been leading mining companies since 2008, insisted that investors and analysts have failed to grasp that none of the typical reasons given for industry mergers apply to this deal.
The merger isn't about creating synergies, as Johannesburg-based Gold Fields expects only about $40 million in annual savings. Nor is it about achieving scale to gain trading liquidity and interest from larger investors, as many analysts have suggested, Griffith said.
Rather, Griffith insisted that the purchase should be seen as a move to add to Gold Fields' assets at a time when finding and building new mines is becoming increasingly difficult, leaving ambitious mining companies with little choice but to grow through acquisitions.
But since most companies seek to acquire individual mines, companies such as Yamana, which have multiple mines, can be purchased at a comparative discount.
"The objective of this deal was not about scale," Griffith said in an interview. "We don't have a pipeline of assets for the future," he said, adding, "We're much less concerned about the scale of the business as the value of the business."
The deal values Yamana's "reserve ounces" — gold it has not yet produced — at US$208 per ounce. A company with one mine would typically cost between US$350 and US$400 per ounce, Griffith said.
"Our view is that Yamana is undervalued," he said. "And we do think that that's a better acquisition for us, and a lower cost acquisition price than going to buy a series of individual assets that are equivalent to the assets that Yamana has."
Peter Marrone, executive chairman of Yamana, said his board met in December of 2020 and 2021 to consider its strategic options, and reached a similar conclusion.
"Our board looked at what could we buy … that would give us critical mass, that would be better than what we currently are," Marrone said in an interview. "And all of it was unbelievably, in many ways, expensive, and there's a lot of risk in these things, single assets, development stage projects."
The all-stock merger allowed Yamana shareholders to redeem their shares for Gold Fields shares at an exchange ratio of 0.6, implying a Yamana share price of US$7.39. or a 33-per-cent premium based on the 10-day value weighted average trading price of each company.
But as of June 3, Gold Fields shares were down 20 per cent to US$9.68, while Yamana shares were up 9.8 per cent to US$5.68, leading some analysts to cast doubt on the deal's prospects.
"We suggest the proposed price is now no longer a fair value to Yamana shareholders," Jackie Przybylowski, an analyst at BMO Capital Markets wrote. "It's not clear if the offer could be re-priced or a cash component could be added to support the valuation ahead of the transaction."
The deal, which is expected to close in the second half of the year, requires the approval of 75 per cent of each company's shareholders. Gold Fields would be entitled to a US$300 million termination fee and Yamana would be entitled to a US$450 million termination fee.
Still, both Marrone and Griffith noted their boards had approved the combination, and expressed confidence it would succeed.
Fahad Tariq, of Credit Suisse, initially cited scale and diversification of portfolio as strong rationales for the deal. In a subsequent note on June 2 about future consolidation, he highlighted the obstacles to reserve replacement for gold mining companies.
"These mergers, and others, have been driven by a few fundamental sector themes: first, the reserve replacement challenge – gold producers are having increasing difficulty replacing the reserves they mine each year," Tariq wrote, "Second, scale for relevance – generalist investors continue to prefer gold companies with large market capitalizations."
Many analysts have focused on scale, given that studies have shown that larger companies trade at higher multiples, which is mainly attributed to liquidity and passive investments, such as exchange traded funds, which are more likely to include a larger company in an index.
For example, analysts at Canaccord Genuity previously calculated that precious metals mining companies with greater than US$10 billion in market capitalization traded at a multiple of 1.09 of their share price over their net asset value, while at the other end of the spectrum, companies valued at less than US$1.5 billion traded at 0.53.
Article content
Fahad also noted that in the current inflationary environment, "larger producers tend to have better buying power and can better maintain costs and margins."
Still, the Yamana and Gold Fields combination could run into hurdles. Griffith said that he does not expect Marrone to stay on as part of the management team or the board of directors of the newly combined entity, and acknowledged that could trigger a change of control contractual compensation package that he estimated may be worth US$50 million.
"He's got certain change of control provisions that will pay out," said Griffith. "But in the greater scheme of things and the quantum of this deal, that is not material. I'm not saying it's not a big number, but it was not the consideration of the deal."
Article content
Griffith added that the deal makes sense because of the two company's complementary growth profile. Gold Fields expects a mine in the Chilean Andes, known as Salares Norte, to start producing 350,000 ounces of gold per year starting in early 2023. Yamana has a four-phase plan to grow its Jacobina mine from under 180,000 ounces of production up to 350,000 ounces over the next half-decade, and it hopes to bring a former underground mine in Quebec, known as Wasamac, into production by mid-decade that could produce 200,000 ounces per year.
"They have short-term growth," said Marrone. "While we have intermediate- and long-term growth, just two pieces of a puzzle fitting really nicely together."
• Email: gfriedman@postmedia.com | Twitter: GabeFriedz
Financial Post Top Stories
Sign up to receive the daily top stories from the Financial Post, a division of Postmedia Network Inc.
By clicking on the sign up button you consent to receive the above newsletter from Postmedia Network Inc. You may unsubscribe any time by clicking on the unsubscribe link at the bottom of our emails. Postmedia Network Inc. | 365 Bloor Street East, Toronto, Ontario, M4W 3L4 | 416-383-2300