Communities 'finally have a voice' on how projects impact their lands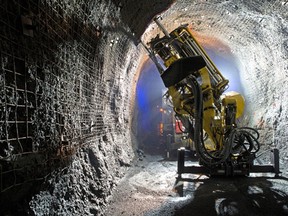 First Nations leaders involved in two Canadian mining projects say their communities "finally have a voice" since Canada's implementation of the United Nations Declaration on the Rights of Indigenous Peoples Act (UNDRIP) came into force almost a year ago.
"UNDRIP opens a lot of doors," Chief Theresa Nelson of Animbiigoo Zaagi'igan Anishinaabek First Nation, the lead negotiator with the Greenstone Gold project in Northern Ontario, told a panel at the Prospectors and Developers Association of Canada (PDAC) convention in downtown Toronto on Monday.
Construction of the mine has been ongoing, with drilling and blasting within the site set to occur regularly in the following months.
Nelson said the government initially excluded and did not recognize her community, which is 15 minutes away from the site, as being impacted by the project, but "UNDRIP gives a chance of inclusion and input to our lands."
The UN declaration, which received Royal assent in Canada on June 21, 2021, affirms the rights of Indigenous Peoples to self-determination, their language, culture and traditional lands, while also spelling out the need for free, prior and informed consent (FPIC) from Indigenous people on anything that infringes on their lands or rights.
"We've become so busy in the last couple of years due to UNDRIP," she said. "It's really quite amazing what we have accomplished with it."
The Greenstone project, a 60/40 joint venture between Equinox Gold Corp. and Orion Mine Finance, operates in partnership with Nelson's First Nation community, along with the Aroland First Nation, Ginoogaming First Nation, Long Lake 58 First Nation, Métis Nation of Ontario and the Municipality of Greenstone.
Article content
Chief Judy Desmoulin of Long Lake 58 First Nation, said the mine "is certainly helping with (the community's) poverty issues."
But she added that a lot more still needs to happen following these project agreements and Indigenous communities, "more than ever, need to stick together no matter what."
The Greenstone project is not on reserve land, but on their traditional territory, so Desmoulin said the industry still has to recognize everyone affected and have a fair process when discussing its impact.
She added that they would like to make sure most of the land that is used will be returned to its original state when the project is finished.
In the Northwest Territories, Grand Chief Jackson Lafferty of the Tłı̨chǫ Government, who was a long-time employee at Diavik Diamond Mine, said it's very important for his community to have a positive working relationship with those involved at the site.
Article content
"Our people want to be engaged. They want to have a fruitful discussion. They want to know how you can work with our people," he said.
Lafferty recalled working for the mine in the 1990s when he and other Indigenous members of his community just wanted "to have our voice into the system of how this new mining company will be operating."
The mine's owner, Rio Tinto Group, is now working on closing the mine, which is set to shut down in 2025.
Winter Bailey, the first Indigenous woman to join Diavik's management team, said one of the things they're doing as the closure approaches is to explore pathways their Indigenous employees want to take going forward.
"We're three years away from (the) last door at the moment," said the mine's president and chief operating officer, Angela Bigg. "So, in the Northwest Territories, we'll be one of the first mines to have a very planned closure and have a solid track with people, as well as the reclamation of the land."
• Email: dpaglinawan@postmedia.com | Twitter: denisepglnwn
Financial Post Top Stories
Sign up to receive the daily top stories from the Financial Post, a division of Postmedia Network Inc.
By clicking on the sign up button you consent to receive the above newsletter from Postmedia Network Inc. You may unsubscribe any time by clicking on the unsubscribe link at the bottom of our emails. Postmedia Network Inc. | 365 Bloor Street East, Toronto, Ontario, M4W 3L4 | 416-383-2300