Author of the article:
The Associated Press
Paul Wiseman
Published Feb 03, 2023 • 3 minute read
Join the conversation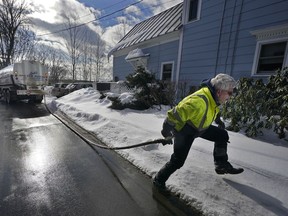 WASHINGTON (AP) — The American economy has an unusual problem: The job market looks too strong — at least to the inflation fighters at the Federal Reserve.
REGISTER TO UNLOCK MORE ARTICLES
Create an account or sign in to continue with your reading experience.
Access articles from across Canada with one account
Share your thoughts and join the conversation in the comments
Enjoy additional articles per month
Get email updates from your favourite authors
Companies are still seeking more workers and are hanging tightly onto the ones they have. Putting aside some high-profile layoffs at big tech companies like Microsoft, Google, Amazon and others, most workers are enjoying an unusual level of job security even at a time when many economists foresee a recession approaching.
Financial Post Top Stories
Sign up to receive the daily top stories from the Financial Post, a division of Postmedia Network Inc.
By clicking on the sign up button you consent to receive the above newsletter from Postmedia Network Inc. You may unsubscribe any time by clicking on the unsubscribe link at the bottom of our emails or any newsletter. Postmedia Network Inc. | 365 Bloor Street East, Toronto, Ontario, M4W 3L4 | 416-383-2300
Employers have added at least 200,000 jobs every month for 24 straight months — the longest such streak in government records dating to 1939. Economists think the streak ended last month, if just barely: They have forecast that the government will report Friday that the economy added 185,000 jobs in January, according to the data firm FactSet, and that the unemployment rate ticked up to 3.6% from a half-century low of 3.5%.
That would still represent a solid job gain, though decisively below the red-hot pace of the past year. For all of 2022, the economy added a sizzling average of 375,000 jobs a month. That was a pace vigorous enough to have contributed to the painful inflation Americans have endured, the worst such bout in 40 years. A tight job market tends to put upward pressure on wages, which, in turn, feed into inflation.
Hence, uneasiness at the Fed. The central bank, hoping to cool the job market and the economy — and, as a consequence, inflation — has raised its benchmark interest rate eight times since March, most recently on Wednesday. Since July, monthly hiring has steadily decelerated even while remaining at historically healthy levels.
Year-over-year measures of consumer inflation have steadily eased since peaking at 9.1% in June. But at 6.5% in December, inflation remains far above the Fed's 2% target, which is why the central bank's policymakers have reiterated their intent to keep raising borrowing rates for at least a few more months.
The Fed is aiming to achieve a "soft landing" — a pullback in the economy that is just enough to tame high inflation without triggering a recession. The policymakers hope that employers can slow wage increases and inflationary pressures by reducing job openings but not necessarily by laying off many employees.
But the job market's resilience isn't making that hoped-for outcome any easier. On Wednesday, the Labor Department reported that employers posted 11 million job openings in December, an unexpected jump from 10.4 million in November and the largest number since July. There are now about two job vacancies, on average, for every unemployed American.
The Labor Department's monthly count of layoffs has amounted to fewer than 1.5 million for 21 straight months. Until 2021, that figure had never dropped so low in records dating back two decades.
Yet another sign that workers are benefiting from unusual job security is the weekly number of people who apply for unemployment benefits. That figure is a proxy for layoffs, one that economists monitor for clues about where the job market might be headed. The government said Thursday that the number of jobless claims fell last week to its lowest level since April.
The pace of applications for unemployment aid has remained rock-bottom despite a steady stream of headline-making layoff announcements. Facebook parent Meta is cutting 11,000 jobs, Amazon 18,000, Microsoft 10,000, Google 12,000. Some economists suspect that many laid-off workers might not be showing up at the unemployment line because they can still find new jobs easily.
Economic forecasters will be closely watching Friday's figure for hourly wage growth in January. According to the FactSet survey, they foresee a 0.3% average pay increase from December to January. Nancy Vanden Houten, lead economist at Oxford Economics, said that figure would translate into annual pay growth of 4.3%, down from a 4.6% year-over-year increase in December.
It would be an improvement, she said, but "still too strong for the Fed to be confident that the moderation is enough to take the heat off inflation."
"Layoffs remain low, and demand for workers is still strong, evident in elevated job openings, strong job growth and an unemployment rate that is at a half-decade low," said Rubeela Farooqi, chief U.S. economist at High Frequency Economics. "The labor market has yet to respond meaningfully to a rapid increase in interest rates."
——–
AP Economics Writer Christopher Rugaber contributed to this report.