The sinkhole's diameter has increased to 36.5 metres from 32 metres when it was first spotted on July 30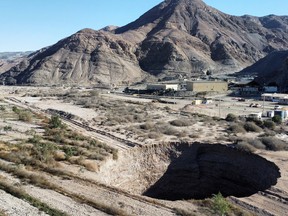 Toronto-based Lundin Mining Corp. has temporarily suspended underground operations at its Alcaparrosa mine in Chile as authorities monitor a large sinkhole that was discovered near the copper mine late last month.
The sinkhole's diameter has increased to 36.5 metres from 32 metres when it was first spotted on July 30, the company said. Still, Lundin described the sinkhole as stable, and pushed back against suggestions the change in size was reason for alarm.
"The media reports of the sinkhole materially increasing in size are inaccurate. On July 30, the sinkhole measured approximately 32 meters in diameter at the surface, 48 meters in diameter at the bottom and was 64 meters deep," spokesman Mark Turner said on Monday.
Turner said the diameter at the bottom of the sinkhole was 48 metres, while at the top it was approximately 36.5 meters. He attributed the expansion of the surface to "small amounts of material" dropping from the walls. "This has actually reduced the measured depth to approximately 62 metres," Turner added.
Two days after the sinkhole was discovered, Lundin said that it had suspended development work at the mine. "Shortly thereafter" the company shut down the underground mine due to safety concerns, Turner said.
On August 4, Chile's National Service of Geology and Mining, which is investigating the sinkhole and vowed to come up with updates later this week, ordered the mine to shut down, which Lundin said it had already done.
The sinkhole developed near Lundin's Ojos del Salado operation in Chile's Atacama Region, 20 kilometres south of the city of Copiapó. The operation contains two underground mines, Santos and Alcaparrosa, and is part of Lundin's Candelaria mining complex.
Article content
The complex is expected to produce about 155,000 to 165,000 tonnes of the metal in 2022, or about 60 per cent of Lundin's total copper output.
The Alcaparrosa mine contributes about five per cent of the overall ore processed annually by the complex and its temporarily closure isn't likely to impact Lundin's annual guidance for the Candelaria mining complex.
Turner said that information on the sinkhole was being shared in community meetings with union leaders, community members, and other stakeholders.
Shares of Lundin Mining fell to $6.71 on August 2, its lowest in a year, after the company confirmed the presence of a sinkhole near the mine. On Monday, the company closed at $6.95 up 10 cents or 1.46 per cent within a 52-week trading range of $6.57 and $14.
• Email: nkarim@postmedia.com | Twitter: naimonthefield
Financial Post Top Stories
Sign up to receive the daily top stories from the Financial Post, a division of Postmedia Network Inc.
By clicking on the sign up button you consent to receive the above newsletter from Postmedia Network Inc. You may unsubscribe any time by clicking on the unsubscribe link at the bottom of our emails. Postmedia Network Inc. | 365 Bloor Street East, Toronto, Ontario, M4W 3L4 | 416-383-2300