Published Feb 28, 2023 • Last updated 2 hours ago • 2 minute read
Join the conversation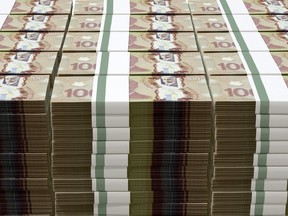 A new study by the fiscally conservative Fraser Institute says per-person spending by Ontario governments rose from $2,408 in 1965 to $11,384 in 2021, an increase of 373%.
REGISTER TO UNLOCK MORE ARTICLES
Create an account or sign in to continue with your reading experience.
Access articles from across Canada with one account
Share your thoughts and join the conversation in the comments
Enjoy additional articles per month
Get email updates from your favourite authors
The figures are adjusted for inflation, population growth and exclude interest rates on debt, which governments inherit from previous administrations, so that spending in 1965 is comparable to spending in 2021, the last year of the study.
From our newsroom to your inbox at noon, the latest headlines, stories, opinion and photos from the Toronto Sun.
By clicking on the sign up button you consent to receive the above newsletter from Postmedia Network Inc. You may unsubscribe any time by clicking on the unsubscribe link at the bottom of our emails or any newsletter. Postmedia Network Inc. | 365 Bloor Street East, Toronto, Ontario, M4W 3L4 | 416-383-2300
Obviously, governments today provide a far greater range of government services than in 1965 at much higher costs to taxpayers.
The study, "Ontario Premiers and Provincial Government Spending," by Ben Eisen, Joel Emes and Tegan Hill, says Progressive Conservative Premier Doug Ford's government in 2020 recorded the highest single year of per-person spending of any provincial government going back to 1965.
Adjusted for inflation, population growth and discounting interest rates on debt, the Ford government spent $11,558 per person in the first year of the pandemic.
Excluding COVID-related spending, which drops the Ford government's per-person spending to $10,226 in 2020, Liberal premier Dalton McGuinty recorded the highest single year of per person spending during the study period — $11,522 — in 2010, as the Ontario economy was coming out of the 2008-09 global recession.
Recommended video
We apologize, but this video has failed to load.
When it comes to the average annual increase in per-person spending, the brief (two-year) government of Progressive Conservative premier Ernie Eves from 2002 to 2003 increased it the fastest, at a rate of 5.4%.
That was followed by Liberal premier David Peterson at 4.0% during his five years in power from 1985-90; McGuinty at 2.9% during his nine years in power from 2003-12; Ford at 2.4% during his five years in power so far from 2018-23; Progressive Conservative premier Bill Davis at 2.3% during his 14 years in power from 1971-85, and Liberal premier Kathleen Wynne at 0.4% during her five years in power from 2013-18.
NDP premier Bob Rae decreased average annual per person spending by 0.2% during his five years in power from 1990-95, while Progressive Conservative premier Mike Harris reduced spending at the fastest rate, an average decrease of 1% annually during his seven years in power from 1995 to 2002.