Cobalt deal shows companies are scrambling to shift away from China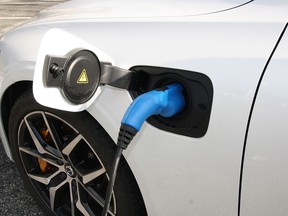 Electra Battery Materials Corp. agreed to supply LG Energy Solution Ltd., a global lithium-ion battery maker, with 7,000 tonnes of cobalt from its Ontario refinery in a deal that shows companies are increasingly looking to shift refining operations away from China.
The U.S. government is intent on ending China's stranglehold on the supply of the raw ingredients needed to build clean technologies such as electric vehicles, or EVs. President Joe Biden last month signed the Inflation Reduction Act (IRA), which states that EVs containing batteries assembled in North America and made up of critical minerals sourced from the region could receive US$7,000 worth of tax credits, a generous subsidy that could offset some of China's advantages.
Financial Post Top Stories
Sign up to receive the daily top stories from the Financial Post, a division of Postmedia Network Inc.
By clicking on the sign up button you consent to receive the above newsletter from Postmedia Network Inc. You may unsubscribe any time by clicking on the unsubscribe link at the bottom of our emails. Postmedia Network Inc. | 365 Bloor Street East, Toronto, Ontario, M4W 3L4 | 416-383-2300
"The IRA makes it pretty clear, if you are going to have any contact from China or Russia, that vehicle credit goes to zero," said Trent Mell, Electra's chief executive. "Suddenly you have got global supply chain participants, companies much bigger than us, trying to figure out how they are going to move their production outside of China and into North America."
According to CRU International Ltd., a London-based research firm, China is currently responsible for 71 per cent of refined cobalt, 76 per cent of refined nickel and 93 per cent of refined manganese, all of which are used in EV batteries.
China was able to claim a dominant position in part because North American and European companies were unable to match China's cost advantages. But in recent years, Western nations have been trying to reduce their dependence on China, as the world looks to shift away from fossil fuels to meet its climate net-zero goals.
Electra's Temiskaming Shores, Ont.-based refinery is still under construction and won't be finished until at least the spring of 2023. Once it's operational, Electra agreed to supply cobalt to LG until 2025. The refinery is a part of Electra's EV battery-materials park that will refine nickel, cobalt and manganese; recycle battery black mass material, a powdery substance collected from crushed, used batteries; and manufacture precursor cathode active materials (pCAM).
The company is developing the park through a phase-by-phase process, with the completion of the $84-million cobalt sulfate refinery representing the first phase. The company will then look to build a battery recycling plant next year. For the third and fourth phases, Electra will focus on building a nickel sulphate refinery and a pCAM manufacturing facility.
The feed for the Ontario refinery will be sourced from mines in the Democratic Republic of Congo, which produces the majority of the world's cobalt. While researchers have pointed out human rights issues and accidents due to artisanal mining in the nation, Mell said Electra would buy from mines with which the company is "comfortable" and have good reputations.
"This is our first big commercial contract," said Mell, adding that the agreement with LG represents 60 per cent of Electra's planned production over the next three years and will generate about $70 million in revenue.
Recommended from Editorial
LG CEO Youngsoo Kwon said in a statement that the deal was a "crucial step" in the company's strategy of securing a stable raw material supply from North America.
In June, Electra said it was in discussions with the government of Quebec to construct a new cobalt refinery in Bécancour. In April, Glencore plc said it would purchase cobalt and nickel for one year from Electra's battery recycling plant. The metals will be produced through the refining of black mass feed from lithium-ion batteries.
At 12:30 pm, shares of Electra were trading at $4.65, up 18 per cent from yesterday's close and the highest in more than a month. The company has a market cap of $150.5 million.
• Email: nkarim@postmedia.com | Twitter: naimonthefield