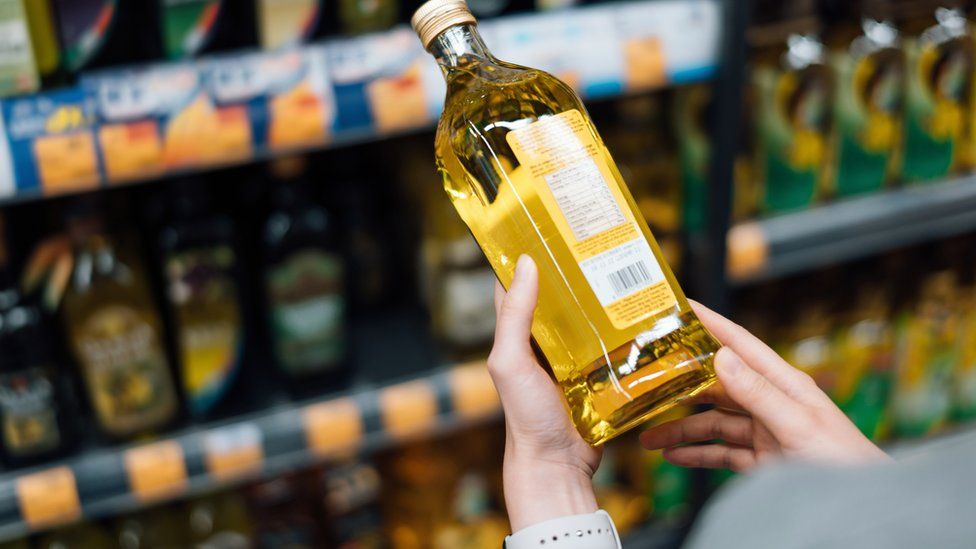 By Michael Race
Business reporter, BBC News
Prices for olive oil, sugar and low-fat milk have surged with food costs continuing to fuel inflation in the UK.
The goods have all increased by more than 40% in the year to January, official figures show, with food inflation remaining at a 45-year high.
A Co-op Food boss warned grocery prices will remain high this year.
Overall UK price inflation fell to 10.1% last month from 10.5% in December, driven by decreases in fuel prices and the cost of dining out.
To calculate inflation, which measures the increase in the price of something over time, the Office for National Statistics (ONS) keeps track of the prices of hundreds of everyday items.
If it falls, it does not mean the prices of goods are going down, it just means prices are rising more slowly.
Grocery prices are one of the main drivers fuelling overall inflation, along with energy bills. Food prices remained high at 16.7% in the year to January, a slight dip from 16.8% in December.
Olive oil prices rose 44.6%, while low-fat milk was up 45.2%. Cheese prices rose more than 30%, and butter and egg prices were up by more than 20%.
Matt Hood, managing director of Co-op Food, which has more than 2,500 UK stores, said prices continued to rise in January as costs for grocers did, making it "incredibly tough".
"Inflation is the thing that keeps us up at night," he told the BBC's Today programme.
"Believe it or not we as retailers are trying our hardest not to flow it all through to our customers."
Heatwaves hit olive oil production
Both food and energy bills have been rising following Russia's invasion of Ukraine almost a year ago, with supplies of both commodities being disrupted.
But in the case of olive oil, prices are higher largely due to a supply shortage caused by the weather, with summer heatwaves hitting crops in Spain, a huge exporter of the product.
Kyle Holland, analyst of oils and oil seed prices at commodity price data firm Mintec, said because of the dry conditions, olive trees produced less olives last year, meaning production in Spain was down to 720,000 metric tonnes, from the usual 1.5 million.
"When there is not enough rain, [olive trees] cannot produce any olives. A lot of trees have not produced enough. It's a very steep decline," he said.
Some analysts have said the cost of living may now be beginning to ease after inflation hit a peak in October.
However at 10.1%, the rate of price rises is still way above the 2% target the Bank of England is charged with meeting.
Other than in the last year in which inflation has been rising, the last time it was above the current level was in February 1982.
Pay, excluding bonuses, increased at an annual pace of 6.7% between October and December 2022. But it is failing to keep up with the cost of living as when adjusted for inflation, regular pay fell by 2.5%.
Kelly Hill, an apprentice at Francesco's hair salon in Stafford, moved back in with her parents to save to buy her own home.
The 31-year-old said it was "difficult" not being able to live on her own and added she worried about not being able to move out again.
"It's just interest rates, the prices of the properties and everything has gone up," she said.
Kelly said her parents had noticed the price rises of food had "gone right through the roof".
Grant Fitzner, chief economist for the ONS, said there were signs costs facing businesses were "rising more slowly", but warned "business prices remain high overall, particularly for steel and food products".
He said air and coach travel prices had dropped back after December's "steep rise". "Petrol prices continue to fall and there was a dip in restaurant, cafe and takeaway prices," he added.
But the falls in those prices were offset by rising prices of alcohol and tobacco.
Chancellor Jeremy Hunt also warned the "fight is far from over" on rising prices and said it was why the government "must stick to the plan to halve inflation this year, reduce debt and grow the economy".
Although the government has pledged to halve inflation, many economists have predicted it will happen naturally, as the cost of energy falls.
Shadow chancellor Rachel Reeves said families would feel no better off following 13 years of Conservative government and repeated Labour's call for higher taxes on oil and gas companies to ease bills when energy prices go up in April.
The biggest factor driving down inflation is petrol – now only 2p a litre more than it cost before Russia invaded Ukraine.
It's because inflation compares prices last month with a year before that the rate of inflation is almost certain to slow further in the coming months.
Fuel prices were already rising this time last year, but it was the war that blasted the price of petrol and wholesale gas into the stratosphere.
Two months from now we'll be comparing prices in March 2023 with March 2022, after the fuel price had jumped, and therefore the difference – the rate of inflation – will be smaller. That will happen regardless of what the government or the Bank of England does.
Crucially, the Bank of England's big anxiety, that global inflationary pressure is becoming embedded domestically, will have been soothed. That undermines the argument for raising interest rates faster.
Samuel Tombs, chief UK economist at Pantheon Macroeconomics, said the fall in inflation gave the Bank of England "the flexibility" to keep its interest rate at 4%, rather than increase it again.
The Bank raised rates for the tenth time in a row at the start of the month in a bid to curb rising prices.
Raising interest rates is seen as a way to control inflation by making it more expensive to borrow money and thus encouraging people to borrow less and spend less, and save more.
But it is a balancing act as the Bank does not want to slow the economy too much with predictions that the UK could enter a recession – a period of economic decline – this year.
Related Topics