Japan says it will focus on developing next-generation reactors to tackle energy costs that have soared during the Ukraine crisis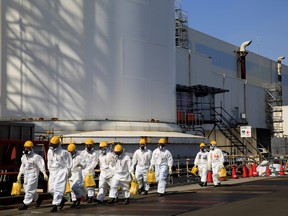 Share prices of uranium miners spiked Wednesday as Japan's Prime Minister Fumio Kishida said the nation would restart idled nuclear plants and focus on developing next-generation reactors to tackle energy costs that have soared during the Ukraine crisis.
Saskatoon-based Cameco Corp., one of the world's largest uranium producers, was trading at $33.99, up 11.5 per cent or $3.52 on the Toronto Stock Exchange at noon, while Toronto-based Denison Mines Corp. shares rose 12 per cent, trading at $1.61.
Financial Post Top Stories
Sign up to receive the daily top stories from the Financial Post, a division of Postmedia Network Inc.
By clicking on the sign up button you consent to receive the above newsletter from Postmedia Network Inc. You may unsubscribe any time by clicking on the unsubscribe link at the bottom of our emails. Postmedia Network Inc. | 365 Bloor Street East, Toronto, Ontario, M4W 3L4 | 416-383-2300
In the United States, shares of Energy Fuels Inc. and Athabasca Basin explorers Baselode Energy Corp. and Fission Uranium Corp. also rose by more than 10 per cent each at some point.
"The plans outlined by the Japanese Prime Minister are further affirmation of the rapidly increasing interest in and demand for nuclear energy that we are seeing around the world," Cameco spokesperson Jeff Hryhoriw said.
"In addition to Japan's announcement, in recent months we have seen several jurisdictions — including Germany, Belgium and California — revisit their plans to ramp down or phase out nuclear energy generation."
Hryhoriw, who said Cameco has active contracts with Japanese utility customers, added that it was "too early" to tell how quickly the increased demand associated with Japan's announcement might reflect in the market.
The comments from Japan's prime minister come more than a decade after a massive earthquake triggered a nuclear meltdown at the Fukushima Daiichi power plant. The country has kept most of its nuclear plants idle ever since.
But a rise in energy costs, along with nuclear being touted as a way to help the world transition away from fossil fuels, could lead to a change in Japan's policies.
Orest Wowkodaw, an analyst at Bank of Nova Scotia, in a note to clients said he expects Japan's potential return to nuclear power to be a "positive development" for the uranium market.
Currently, seven of the country's nearly 50 reactor units are in operation, Wowkodaw, who follows Cameco, said in the note. He expects 21 units to restart by 2030, which would represent five per cent of the global nuclear capacity.
Uranium prices have dropped 24 per cent from their highs in April 2022, but are still almost 50 per cent higher than a year ago, according to Fundamental Research Corp. It described the uranium supply chain as "highly vulnerable," given that Russia accounts for 35 per of the global production of enriched uranium.
Article content
According to Texas-based Uranium Energy Corp. which recently beat Toronto-based Denison Mines in acquiring Saskatoon-based UEX Corp., the Russian invasion of Ukraine has stoked demand for securing uranium assets in politically stable regions.
Cameco chief executive Timothy Gitzel told analysts on a call at the end of July that countries struggling to access renewable energy were gradually turning towards nuclear for electricity.
According to Reuters, Kishida instructed officials to come up with concrete measures by year-end, including "gaining the understanding of the public" on sustainable energy and nuclear power.
The news agency added that nuclear energy, which was deeply opposed by the public after the Fukushima disaster, is now seen by some in government as a component for green transformation.
• Email: nkarim@postmedia.com | Twitter: naimonthefield