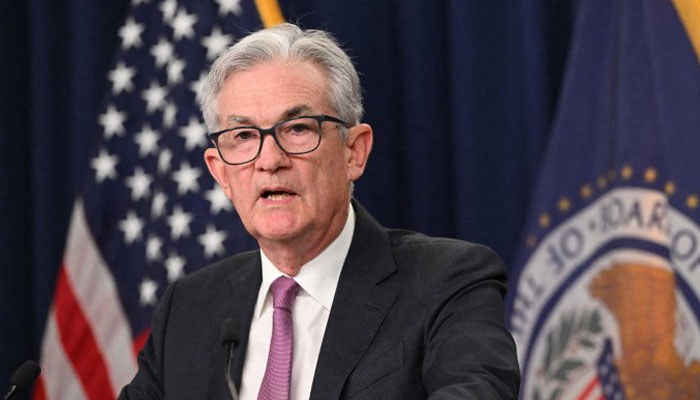 WASHINGTON: America's Federal Reserve slowed its pace of interest rate hikes Wednesday, tempering an aggressive campaign to rein in costs as inflation cools, but signaled the battle is not yet over.
The US central bank announced a quarter-point hike to the benchmark lending rate at the end of its two-day policy meeting, taking the rate to a target range of 4.50-4.75%.
"Inflation has eased somewhat but remains elevated," said the Fed's policy-setting Federal Open Market Committee (FOMC) in a statement.
While recent developments are encouraging, officials will need "substantially more evidence" to be confident that inflation is on a sustained downward path, Fed Chair Jerome Powell told a press briefing.
According to the FOMC statement, "the committee anticipates that ongoing increases in the target range will be appropriate" to bring inflation back to policymakers' 2% target.
The Fed has cranked up interest rates eight times since March 2022, including four consecutive 0.75 percentage point increases, lifting borrowing costs in hopes of dampening demand.
The aim is to rein in inflation, which surged to its fastest pace in decades last year but has since come off a peak.
On Wednesday, the Fed acknowledged recent indicators "point to modest growth in spending and production" as economic activity eases.
The 0.25 percentage point rise marks a step down from December's half-point hike and the series of bigger spikes last year.
But the FOMC statement suggests rate increases will continue.
Powell noted Wednesday that it will take a few more rate hikes to get to an "appropriately restrictive" policy level while inflation runs hot.
And under current expectations, it "will not be appropriate to cut rates this year," he said.
The Fed also stressed that officials are "highly attentive to inflation risks" amid fallout from Russia's war against Ukraine, which is contributing to greater global uncertainty.
Pushing back
"The Fed is pushing back against market expectations that rate cuts are coming," said Ryan Sweet, chief US economist at Oxford Economics.
"The central bank is clearly signaling that it will err on the side of doing too much than too little to tame inflation," Sweet said.
He expects a policy-induced recession to start in the second quarter this year.
But Powell told reporters that growth will continue, though at a "fairly subdued level this year."
With a strong labor market, fading inflation, as well as public and private spending in the pipeline to support economic activity, there is a good chance of positive growth in 2023, Powell said.
For now, data released Tuesday showed that a measure of pay and benefits rose less than expected in the fourth quarter last year.
On Wednesday, payroll firm ADP's figures indicated private hiring slowed more than anticipated in January, adding to signs that the economy is cooling.
End in sight
Ian Shepherdson, chief economist of Pantheon Macroeconomics, believes an end to rate hikes is in sight.
He expects that if the Fed hikes rates again in March, it "won't be going again in May."
But he raised concerns that policymakers may be "so wedded to the idea of raising rates again that they will require disproportionately strong evidence to persuade them to stop."
Officials have expressed determination to stay the course, with Powell telling reporters Wednesday that the Fed remains "strongly committed" to bringing inflation down.
For now, markets liked the Fed's shift in tone as it noted the progress made in lowering costs, Shepherdson said.
Wall Street stocks ended higher, as Powell struck a less confrontational tone than what analysts expected after the rate hike.
Looking ahead, "services inflation, primarily a function of wage growth, will dictate the path of inflation in 2023," said Moody's Analytics economist Matt Colyar.
"While wage growth showed signs of moderation in the final three months of 2022… it would be premature for the Fed to declare victory," he said.