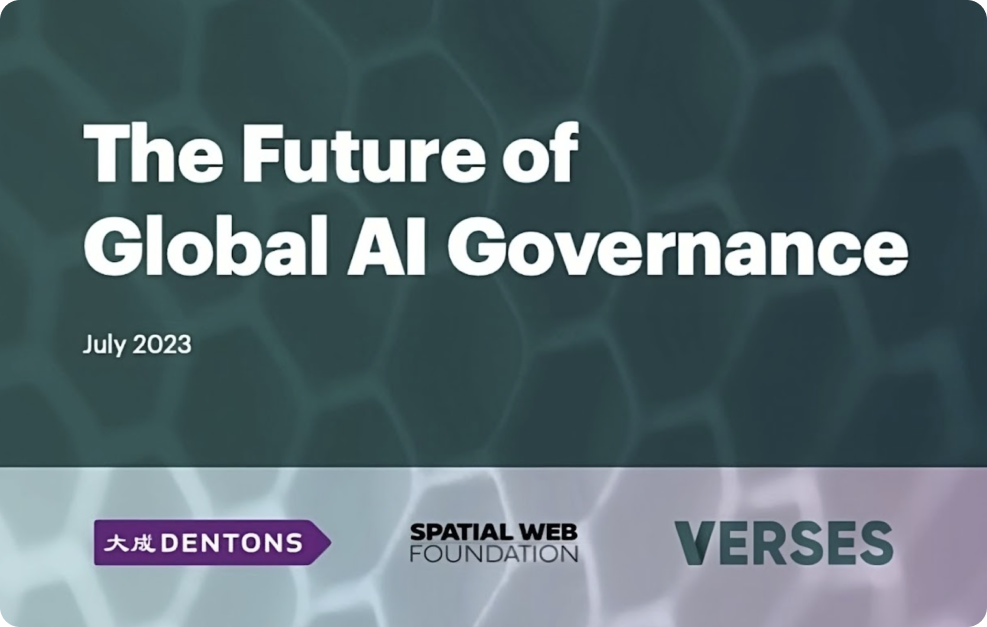 Vancouver, BC, – 24 July 2023 – (GLOBE NEWSWIRE) – VERSES AI Inc.  (CBOE:VERS) (OTCQX:VRSSF) ("VERSES" or the "Company"),
a cognitive computing company specializing in the next generation of artificial intelligence, today announces the release of a landmark AI industry report "The Future of Global AI Governance."
The report offers a unique perspective on global artificial intelligence (AI) governance that combines the legal expertise of the world's largest law firm, Dentons, the AI acumen of VERSES, and guidance from the Spatial Web Foundation.
The report introduces socio-technical standards that have the potential to reshape how we confront the challenges of governing AI on a global scale by addressing interoperability, explainability, and the advancement of intelligent and autonomous systems. We believe as technologies evolve at an exponential pace, the need for developing and adopting such socio-technical standards grounded in human rights and values is becoming increasingly apparent.
The report proposes an International Rating System for Autonomous Intelligent Systems (AIRS) in response to a potential blind spot in regulatory efforts which are focused more on the commercial activities of AI developers than the mechanisms of AI systems themselves which could lead to mass disinformation, job loss, societal destabilization and physical harm. The primary goal of the report is to provide governments, regulators and legislators with a pragmatic framework that both informs and provides a roadmap for future policymaking and compliance.
"We must address the challenge of governing potentially self-regulating AI to ensure alignment with human values and prevent potential risks. By implementing global socio-technical standards and establishing an international AI regulatory sandbox, we believe we can harness the immense benefits of AI while safeguarding against its potential perils," stated VERSES CEO, Gabriel René.
Notably, the research points to the development of socio-technical standards  by the Institute of Electrical and Electronics Engineers (IEEE), the world's largest association of technical professionals.
These socio-technical standards are designed to bridge the gap between technology and society, prioritizing adaptability, collaboration and multi-stakeholder participation. They are designed to assist governments and regulators in fostering trust and efficient integration of AI technologies. Such standards can facilitate the concept of "law as code," where regulations are converted into a machine-readable format, optimizing rules for digital service delivery and automated decision-making processes. This ensures explainability and enables human control over AI and Autonomous Systems.
"The Future of Global AI Governance" also brings to light the immense benefits AI can unlock if effectively globally governed while underlining the urgency to future-proof our ability to align, oversee and override AI systems.
"This report represents a significant step towards comprehending the complexities of AI governance and highlights how socio-technical standards can shape its future trajectory. As the world rapidly embraces AI technologies, the insights offered in this report we expect will undoubtedly serve as a vital resource for policymakers, industry stakeholders and researchers alike" says George Percivall, Distinguished Engineering Fellow and Vice-Chair of IEEE Standards Working Group on the Spatial Web.
"We are thrilled to collaborate with VERSES and the Spatial Web Foundation on this important report. The challenge of regulating AI raises complex and often novel questions of law and policy for clients and stakeholders. We hope this report provides a new way of thinking about AI regulation and provides important insights for key stakeholders as they wrestle with the right path forward on AI regulation and try to strike an appropriate balance between innovation and moderation," said Peter Stockburger, Partner at Dentons US LLP.
"The Future of AI Global Governance" and its companion piece "Executive Summary" are available for download at www.verses.ai/aigovernance.
About VERSES
VERSES is a cognitive computing company specializing in next-generation Artificial Intelligence. Modeled after natural systems and the design principles of the human brain and the human experience, VERSES flagship offering, GIA™, is an Intelligent Agent for anyone powered by KOSM™, a network operating system enabling distributed intelligence.  Built on open standards, KOSM transforms disparate data into knowledge models that foster trustworthy collaboration between humans, machines, and AI, across digital and physical domains. Imagine a smarter world that elevates human potential through innovations inspired by nature. Learn more at VERSES, LinkedIn, and Twitter.
About Dentons
Dentons is designed to be different. As the world's largest global law firm with 21,000 professionals in over 200 locations in more than 80 countries, Dentons can help you grow, protect, operate and finance your business. Dentons polycentric and purpose-driven approach, together with its commitment to inclusion, diversity, equity and ESG, ensures they challenge the status quo to stay focused on what matters most to you.
About the Spatial Web Foundation
The Spatial Web Foundation is a non-profit organization dedicated to the development and ethical use of technology, specifically in the creation and implementation of the Spatial Web protocol. The foundation's core initiatives include developing open standards and protocols, promoting interoperability, and educating the public and policymakers. We support transparency and accountability in the development and use of technology, promote responsible innovation, engage in dialogue and collaboration with various stakeholders, and adopt a proactive approach to addressing emerging ethical challenges. Ultimately, the Spatial Web Foundation seeks to create a more inclusive, accessible, and equitable internet that empowers individuals and communities to connect, create, and thrive.
Originally Posted: https://www.verses.ai/press-2/collaboration-on-landmark-industry-report