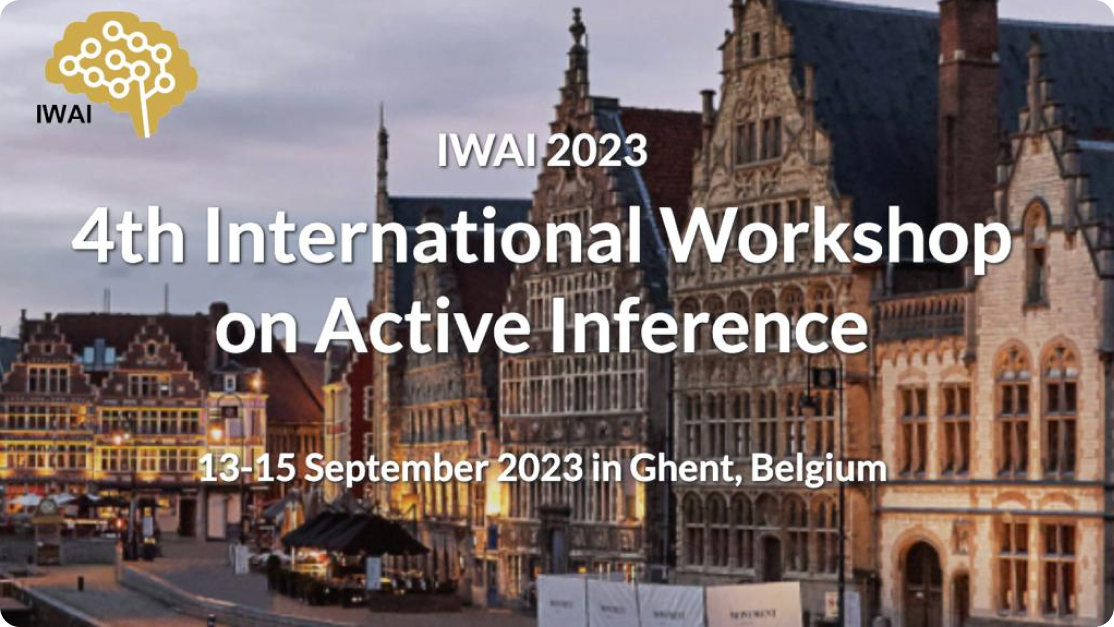 Vancouver, BC – 13 September 2023 – (GLOBE NEWSWIRE) – VERSES AI Inc. (CBOE:VERS) (OTCQX:VRSSF) ("VERSES" or the "Company"), a cognitive computing company specializing in the next generation of artificial intelligence announces an agreement as exclusive corporate sponsor of the 4th International Workshop on Active Inference.
Active Inference, first developed by VERSES Chief Scientist, Karl Friston, is increasingly recognized as a potentially superior approach to AI development that represents a radical departure from conventional machine learning.  Additionally, Verses' foundational platform KOSM™ positions the company as a leader in the use of active inference principles in the development of AI. For example, VERSES' WayFinder™ suite of services and applications use dynamic AI routing to improve logistics productivity in the logistics industry.
The 4th International Workshop on Active Inference (IWAI), which is to be held September 13-15, 2023 at St Peter's Abbey, in Ghent, Belgium, brings together researchers on active inference from around the world. In addition to VERSES AI, serving as Presenting Sponsor; Flanders AI Research Program, Interuniversity Microelectronics Center (IMEC),  Internet & Data Lab (IDLab) and Ghent University are all IWAI supporting sponsors.
"We are very pleased to support the 4th International Workshop on Active Inference," said Gabriel René, Founder and CEO of VERSES. "This is the only event in the world that brings together both the top researchers in the field and presents the most noteworthy publications that explore real-world applications in artificial intelligence."
Keynotes include Tetsuya Ogata, Professor with the Faculty of Science and Engineering, at Waseda University, and a Joint-appointed Fellow with the Artificial Intelligence Research Center, National Institute of Advanced Industrial Science and Technology, Tokyo; Antonella Maselli, of the Institute of Cognitive Sciences and Technology, at the Italia National Research Council of Italy; and the aforementioned Karl Friston, a neuroscientist and theoretician at University College London who is the key architect of the free energy principle and active inference and VERSES' Chief Scientist.
The IWAI will also recognize a number of accepted papers that include: Designing explainable artificial intelligence with active inference: A framework for transparent introspection and decision-making written by several VERSES staff including Mahault Albarracin, Director of Product; Ines Hipolito, AI Ethicist;  Safae Essafi-Tremblay, Senior Grant Manager and Researcher; Jason Fox Chief Technology Officer; Gabriel René, Founder and CEO; Maxwell Ramstead, Senior Director of Research; and Karl Friston Chief Scientist.  For more information about IWAI 2023 visit https://iwaiworkshop.github.io/ 
IWAI 2023
The 4th International Workshop on Active Inference wants to bring together researchers on active inference as well as related research fields in order to discuss current trends, novel results and real-world applications. We have an interest in exploring the extent to which active inference can be used in modern machine learning settings, such as in hybrid setups combining it with deep learning, as well as to unify the latest psychological and neurological insights, and to determine how it can best be used to understand action, optimization and decision making.
About VERSES
VERSES is a cognitive computing company specializing in next-generation Artificial Intelligence. Modeled after natural systems and the design principles of the human brain and the human experience, VERSES flagship offering, GIA™, is an Intelligent Assistant for anyone powered by KOSM™, a network operating system enabling distributed intelligence. Built on open standards, KOSM transforms disparate data into knowledge models that foster trustworthy collaboration between humans, machines and AI, across digital and physical domains. Imagine a smarter world that elevates human potential through innovations inspired by nature. Learn more at VERSES, LinkedIn, and Twitter.
Originally Posted: https://www.verses.ai/press-2/verses-named-as-presenting-sponsor-of-the-4th-international-workshop-on-active-inference