Aggressive, multi-drill approach, high-confidence confirmation of historical work, and resource growth target of reaching multiple billions of pounds of in situ 0.35% NiEq within 18 months.
JRI Interview with Greg Beischer:
Part 1: My Thoughts
This is fresh story on an old project. Pure Nickel (now Galleon Gold) put years of work into this project in the early 2000s, including even getting to the JV stage with a Japanese major. However, the bottom fell out of the nickel market and Pure Nickel decided to switch strategies and abandoned the project despite its advanced stage of exploration (nearly MRE and PEA stage) as low-grade, bulk tonnage nickel deposits just weren't considered properly viable just yet. Pure Nickel had been hoping to unearth some massive sulphide ore to perk up the project economics and couldn't make it happen.
However, if you're reading this you know times are starting to change for nickel. The EV revolution has created some massive anticipated increases in demand, and these low grade, disseminated sulphide nickel deposits in tier 1 jurisdictions are being increasingly looked to as a necessary solution to bridge the imminent demand gap. If you want a refresher on imminent nickel demand, take a look at my writing from July 29th on it.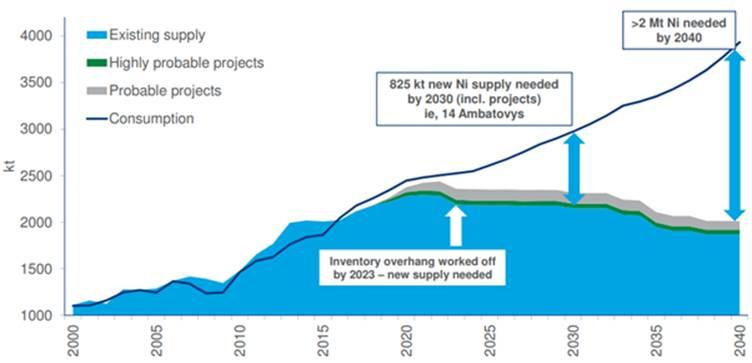 In the context of these ever-growing nickel tailwinds, Greg and his team obviously believe now is the time for the Nikolai project to be advanced. And advance it they have – aggressively pursuing 10,000s of meters of drilling within an 18 month span and planning to have up to 4 rigs moving next season. That means a lot of inferred pounds are going to get added very fast, thanks to the historical data Greg and his team continue to prove up and incorporate.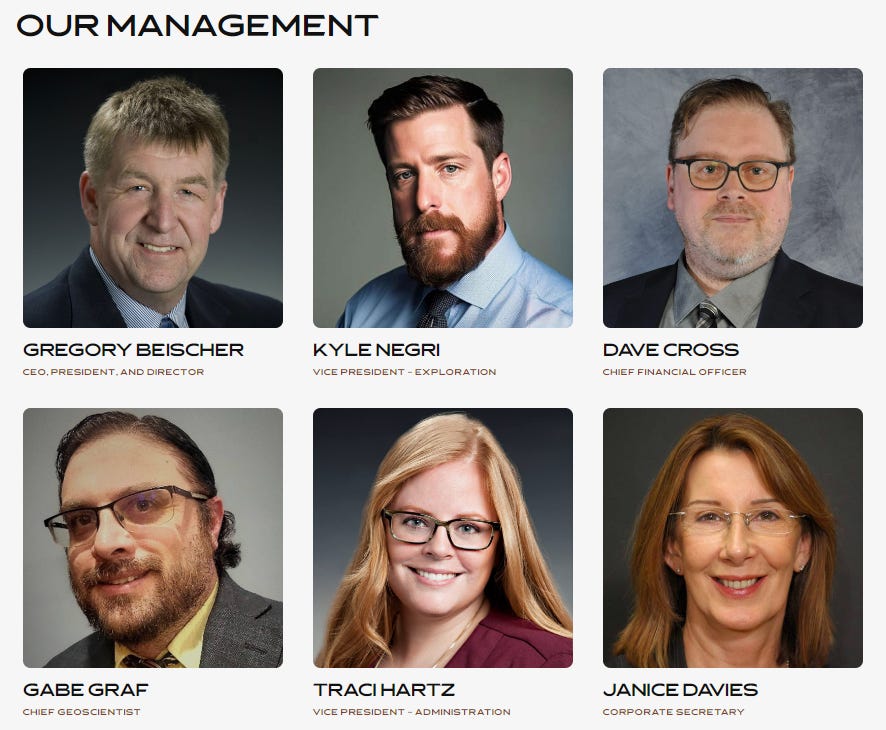 For me, there is a long-term value proposition here I find enticing. Yes – being just a few months away from getting billions of pounds of a 0.35% NiEq resource (granted inferred, so likely discounted to some degree) on the board is going to grab the attention of the market. But I know everyone who is reading this can name a few projects they believe are objectively strong that just aren't getting market love right now. But I don't see this as an issue for AEMC, because – as I said – their story is just getting started.
If you ask me, true value with Nikolai would come later, after it has advanced beyond more "proof of concept" inferred tonnage. What is a huge, simple, nickel deposit in Alaska – one of the fastest-moving, best jurisdictions in the world – worth? What does it mean to the USA, who has declared nickel one of its most critical resources, but has but one (one!) single exporting nickel mine in production in the entire country? What do major companies see in Nikolai if AEMC has 6km of remarkably consistent M+I mineralisation, with another 6 km of the same stuff left to confirm?
Obviously this is a big project with an opportunity for shareholders to see a lot of value put on the board both in the short and long term. Yes, that requires a lot of cash to make happen, but AEMC already appears to have strong financial backing, given its aggressive and successful raises done thus far. This doesn't appear to have much risk of withering on the vine.
If you're of a similar belief in the future of nickel, then AEMC is a project well worthy of your time to understand. There are lots of macro reasons why Nikolai could be a strong success. And independent of macro trends, AEMC promises to provide a strong series of potential catalysts over the coming months and years.
---
Part 2: Written Summary
(w/ hyperlinked time stamps)
00:40: Elevator Pitch
Main focus is Nikolai nickel project in central Alaska. Nickel and polymet kicker. They've been drilling in the summer and expect a maiden resource out soon. "This could be a really large accumulation of nickel."
02:00 Slide Deck Corporate Questions
Share structure: 51 million shares outstanding. Market cap of $27 million. Warrants: 13+ million warrants out. Raised $9.5m US in the summer. Becomes free trading end of November. Warrants are 2 year warrants, strike price at 80 cents.
Insider Ownership: Since they refocused the company they have brought in a slate of new investors. Large chunk of new ownership is now AEMC-focused investors, not legacy Millrock. Many were also initial investors in Canada Nickel and he believes they can reproduce CNC's success.
Burn Rate: About $1 million Canadian per year non-exploration.
04:45: Drilling So Far
Raised $12.5M CAD. Alaska isn't cheap, even just with the exchange rates. Helicopter-supported drilling. While operating, it is about $1 million/month. Have enough cash to get them to their maiden resource by next March. Opportunities to reduce cost are on the table and being planned for future campaigns. They have plans to upgrade existing infrastructure – upgrade road/build bridge. But for the next season they will remain using helicopter.
No outstanding debt.
---
07:40: Background of Creation of AEMC
Greg has been CEO of what was originally Millrock Resources since 2007. What made Greg and his company switch? This is a compelling project that they've known about for a while. Tried originally to find a JV partner but weren't satisfied with the offers they received. Realised they could do it themselves – raise the money for it themselves. Felt like "this was the one they'd been waiting 15 years for."
Combination of events – project generator approach was losing interest/support in the weak market despite the fact they were executing. Had to change things up. It became an opportune time to make te switch. Greg has known about the project for a long time.
Greg still believes in project generators – makes for a semi-sustainable company. Means you can keep the same team together for a long time, which is what you need to make a big discovery. That transition as project generators mature into essentially royalty companies. Takes a long time to get there, though.
11:30: Greg's Personal Connection to the Property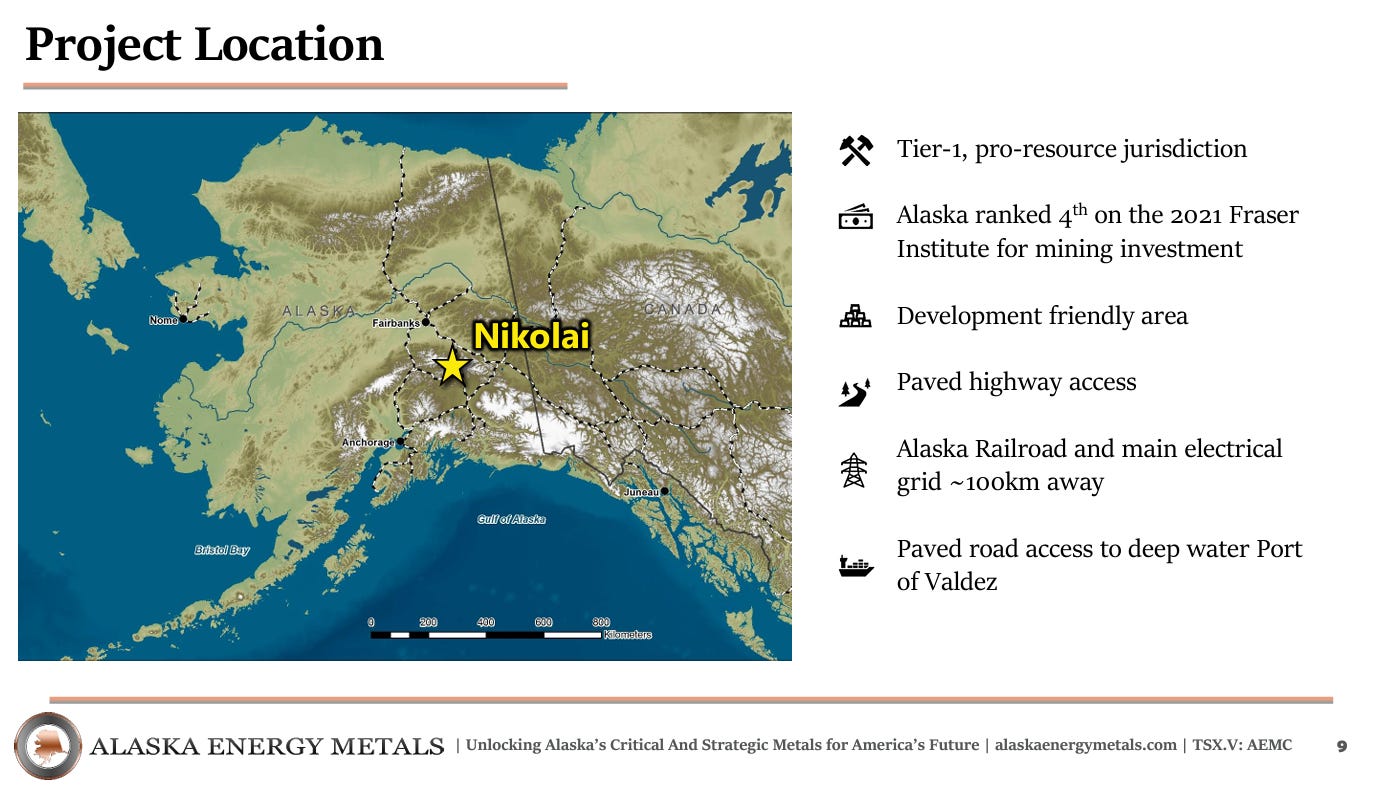 This was the project that brought Greg to Alaska in 1995 when he was with Inco (who had identified it as having geological/Geochem similarities with Norilsk). For 5 years he explored it. Didn't find massive sulhides, they found disseminated nickel. Which wasn't of interest at the time.
Project was bought out eventually by Pure Nickel who did about a decade of work on this project before ultimately dropping the claims (poor market and nickel price).
Greg believes "these lower grade disseminated sulphide deposits really might be the next generation nickel deposits that our industry has to mine to meet what appears to be surging demand"
Important to recognise the advantage of it being on US soil. Lots of low-grade nickel deposits in Canada, but very little in USA land.
These low-grade nickel systems are going to be proven they can work just like low-grade copper porphyries have proven they can work
---
16:20: How Much Historical Drilling/Exploration is There?
10,000s (not exact number). They had deep budgets because they had deep-pocketed partners.
No resource or economic study ever published. Concentration of metal was never quite high enough for it to be considered a deposit. By the time they had enough information on it, nickel was bottoming out and Pure Cycle was starting to close own. $30 million worth of data that Greg has now purchased.
Multiple airborne surveys
Geochem
Mapping 5 or 6000 soil samples
There is 8000-10,000 meters of drilling on their project they can now prove and use in their own resource estimate.
"just a treasure trove"
19:50: How Much More Above Ground Work Do You Have?
Had a strong geophys component to exploration this summer, used CSAMT. Might do more next year, but at this point "it is really a drilling project".
21:00: Just-Completed Drill Campaign And Its Goals
Greg shows about 7 km of trend. The zone of mineralisation seems to persist for close to 12 km.
Sparse drilling – every historical drill hole was very consistent, coming close to 0.35% NiEq. Very consistent. No misses. Any historical drill hole that hit this zone got the same minerlisation.
Added more drill holes to a specific zone to get the spacing required for an inferred resource.
High-grade core but several hundred meters of mineralisation (275m+). Dipping at about 45 degree angle from surface.
24:00: Expected/Potential Size Of This Potential Deposit?
"Amazingly homogenous body of mineralisation". There is a strong likelihood that new drilling will continue to confirm the average historical grade.
1.3 – 1.7 billion pounds contained with only the first targeted zone. Not yet a deposit (no economic study).
Simple geology makes for simple extraction. Big mining companies love long-lived, consistent
Mining companies make their money during the price spikes that occur periodically.
---
27:00: Anticipated Recovery Rate and Geological Composition
Lots of historical work and work done by AEMC that is positively early but more work to follow
92% of all nickel was in pentlandite. Easily and readily recoverable.
Stantec studied and declared they could drill at 300m spacing and still reach an inferred resource due to consistency of the (potential) deposit. Lots of historical drill holes are closer than 300m to each other, and AEMC is looking to confirm those historical hoels with more drilling. If successful, there is another zone they are close to getting to an inferred resource with about 3 km away from their original target. They can even get to indicated soon basd on spacing.
31:00: Will AEMC Get A Rerating From Inferred Lbs Alone?
Realistically, you can't attach dollar value to inferred pounds. But you have to start somewhere. First drill program. Likely to capture market's attention and he believes it will rerate.
Indicated spacing: Educated guess of 150m to get to indicated.
33:30: Future 2024 Drilling Plans
Plans are changing a bit. Plans were to essentially try to double the amount of nickel in the ground. Believes they are seeing enough support to get aggressive with a 3-4 drill program. Getting 2-3 billion pounds of nickel if they drilled out their current targeted zone.
The projects deserve an aggressive approach. This is not a "go slow" project. High confidence, but they have to drill it off to prove it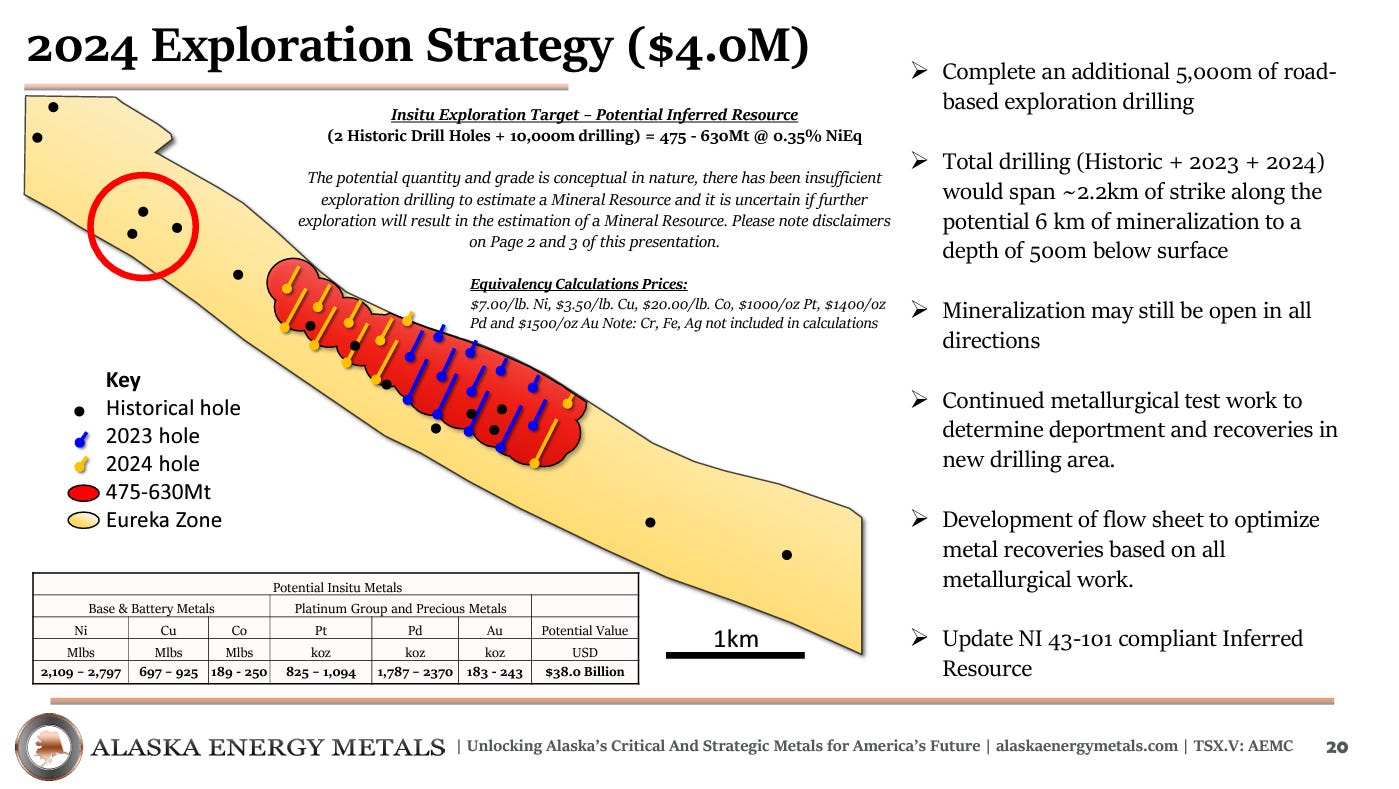 ---
36:00: Peer Group Comparison
He likes and follows Canada Nickel. Numerous comparisons at various stages – FPX, Giga, Waterton, Stillwater, etc. Goal for the NiEq deposit in the ground 18 months from now to be at 4.7 billion pounds.
Majors are buying in and it is a show of validation. Majors are stepping up to buy and develop these huge low-sulphidation.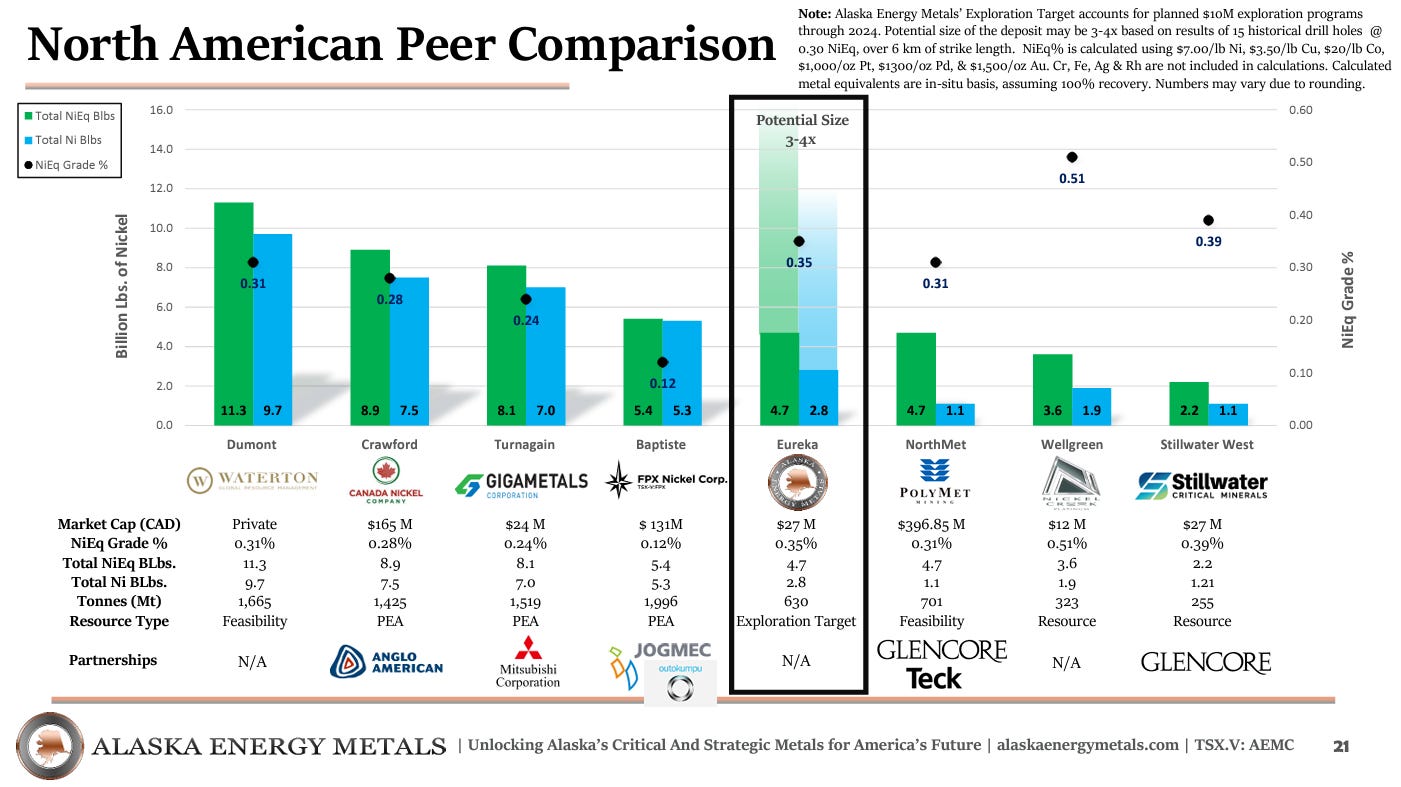 39:50: The Canwell Project
Greg believes he can find and build value with Eureka, but grade is always king. There is still more nickel to be discovered at Nikolai. Still looking for potential massive sukphide deposits, not disseminated. This includes PGEs inc. the more rare ones. Looking to explore there concurrently. Even modest pods of 1-2 million tons will "drastically effect in a positive way the economics of the project". Drilling next summer.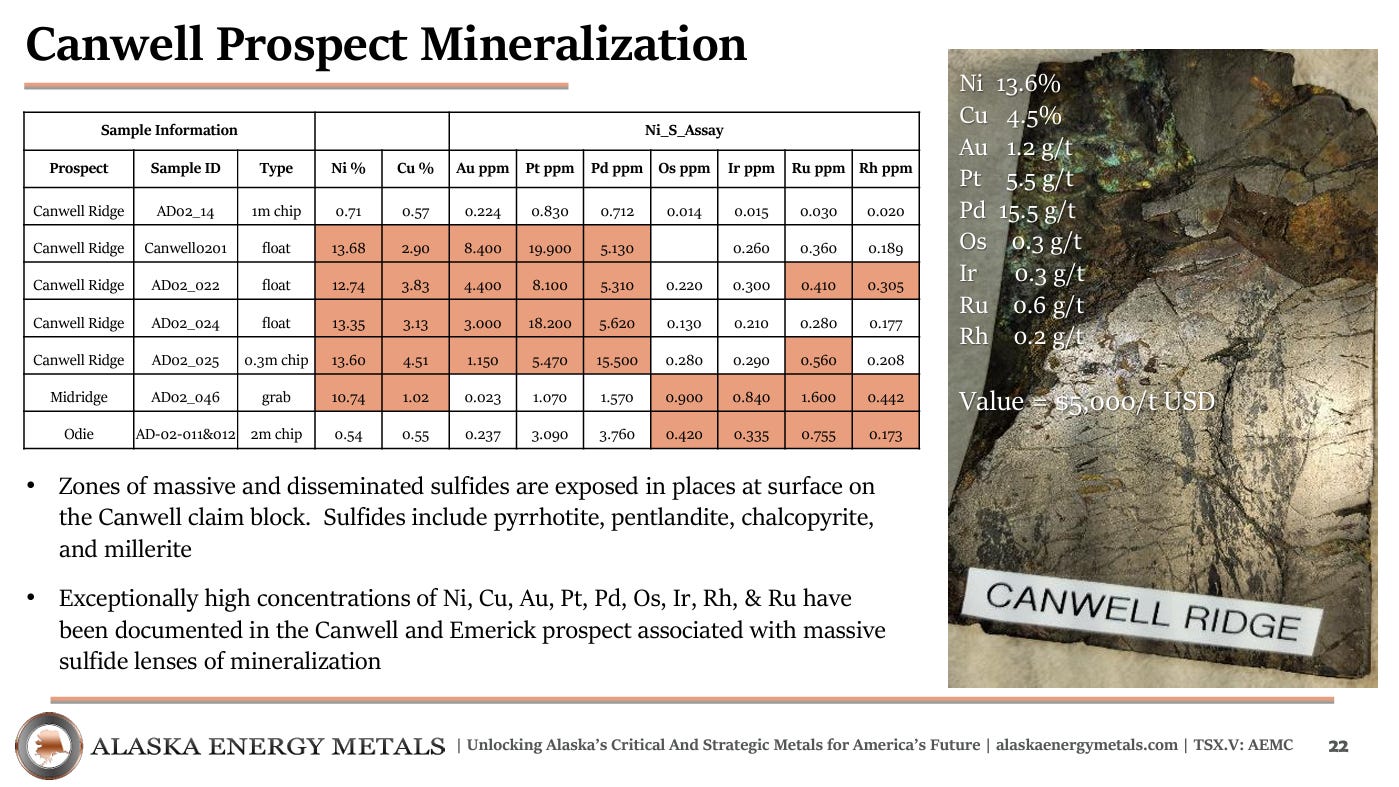 42:30: Discussion of a Current Lawsuit
Minor, secondary player to an unrelated lawsuit. No financial risk. A non-issue. Legacy project unrelated to Nikolai.
43:45: Upcoming Catalysts
Lots of drill results starting to come out. Concentration was exactly what they anticipated. 0.34% NiEq, but was over a wider width than historically thought. 315 meter true width.
Announcements will be 2 holes at a time over the next 6 weeks. Once they are all in hand, they will begin calculating the resource, which will get them to next March. Potential for a quicker resource update as well due to historical research.
Acquired recently a Quebec nickel project that comes with $2m+ cash. Lots of news flow coming.
46:00: Final Thoughts
Greg wants to market the project strongly. Makes sure every brokerage and fund manager knows about nickel's needs. The demand for nickel is always there with stainless steel, but EVs will skyrocket demand. USA doesn't produce much nickel at all – only one exporting mine. Coming geopolitical winds encourages onshoring of these critical metals for the EV/electrification movement.
And that's the end! Thanks for reading.
Article Original Posted: Junior Resource Investing