Published Mar 03, 2023  •  Last updated 3 hours ago  •  3 minute read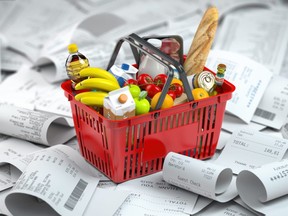 This may come as a surprise for some Canadians, but our country doesn't really have a true discount grocery chain.
With higher food prices and a growing number of consumers seeking refuge from record-setting food inflation, real discount grocery stores would really come in handy. But the option is simply not there.
Sign up to receive daily headline news from the Windsor Star, a division of Postmedia Network Inc.
By clicking on the sign up button you consent to receive the above newsletter from Postmedia Network Inc. You may unsubscribe any time by clicking on the unsubscribe link at the bottom of our emails or any newsletter. Postmedia Network Inc. | 365 Bloor Street East, Toronto, Ontario, M4W 3L4 | 416-383-2300
In recent years, rebates have grown scarce since No Frills and other value grocers such as Empire's FreshCo and Metro's Food Basics took a noticeable step back from their ongoing fight with Walmart.

Quebec is even worse as shoppers can find Metro's Super C or Maxi which is owned and operated by Loblaw. Sobeys doesn't even operate a discount chain in Quebec. All banners and stores are connected to just a handful of grocers controlling the Canadian market.

Now Walmart is doing its own thing with price locks and Loblaw just ended its 14-week price freeze which really failed to show beyond a reasonable doubt that consumers were indeed saving money.
While consumers likely did save some money in January, after a few months of double-digit food inflation it was not clear to many.

Rebates are just not as overly aggressive as what you would see in European-based discount stores. Every now and then some approaching threat will shake our industry's giants and they try to fight for market share. As soon as clouds on the horizon disappear, some sort of truce overwhelms the market.

This is what happened with Target's arrival and quick withdrawal in 2015 and with Amazon Fresh a few years ago when rumours were swirling they would attempt to enter the Canadian market.

For years, we have seen reports suggesting both Lidl and Aldi would enter the Canadian market. They both still have not. In fact, Lidl, a German international discount retailer chain, opened its first store in the United States in 2017 and is now operating almost 200 stores.
Aldi, also from Germany now has over 2,300 stores in the United States. Both have similar business models with all of their efforts on discounts. With both, what you see is what you get, although Aldi does own Trader Joe's in the U.S.

Unlike traditional grocery stores, both Lidl and Aldi operate on a restricted selection strategy, offering only a curated selection of private label products as well as a smaller range of national brands.

Lidl may have more branded products, depending on location. This leads to lower overhead costs and allows stores to sell products at lower prices compared to competitors.

Moreover, these discount grocers implement cost-saving measures such as a bring-your-own-bag policy, minimalistic store design and an efficient checkout process. In fact, in Europe where Aldi and Lidl originate from, clerks typically sit down while working at these discount grocery stores since the bagging work is done by customers themselves. That way, rules are implicitly clear for patrons as you walk towards cashiers.
Strategies at Lidl and Aldi not only benefit the consumer with lower prices, but also contribute to a more sustainable and efficient retail environment. Some no-frills stores, such as No Frills, do some of that but not nearly at the same level. Lidl and Aldi are also known for their emphasis on quality, offering products that meet strict quality standards while still being affordable.

In recent years, non-traditional grocers like Costco, Dollarama, Giant Tiger and Walmart have slowly shifted and tried to fill the discounting void. Costco though stands out. Only 15 years ago, Costco was a mediocre food retailer, at best.

Today, they process many of their fresh products onsite while the quality and freshness rarely disappoint. Deals are impressive, but shoppers need both a car and space at home. And many Canadians are deprived of either.
The bottom line is Canada needs a disruptor, a new player to redefine what competition looks like within the grocery industry. Loblaw just converted over a dozen stores into discount Maxi stores in Quebec, simply because the company is seeing the writing on the wall.

Grocers, coupled with the complacency of our regulars, have become too comfortable.

One can only hope Aldi, Lidl or another non-Canadian discount grocer finds inspiration to join the market in this country. Canadians are calling you.