'It seems like every month we're hitting a new high,' says CEO Rachael Wilson as prices at grocery stores leapt more than 10 per cent from July to August
Author of the article: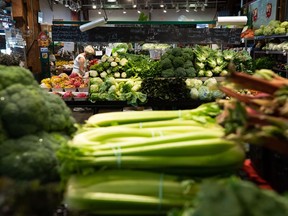 Grocery prices climbed at the fastest pace in more than four decades last month, causing more Ottawans to turn to food banks.
"August was our highest usage month ever, again," said Rachael Wilson, CEO of the Ottawa Food Bank, which supplies food banks across the city.
Ottawa Citizen Headline News
Sign up to receive daily headline news from Ottawa Citizen, a division of Postmedia Network Inc.
By clicking on the sign up button you consent to receive the above newsletter from Postmedia Network Inc. You may unsubscribe any time by clicking on the unsubscribe link at the bottom of our emails. Postmedia Network Inc. | 365 Bloor Street East, Toronto, Ontario, M4W 3L4 | 416-383-2300
"It seems like every month we're hitting a new high and we're seeing increases of, typically about 10 per cent month over month. There's just really no end in sight. We know August was particularly hard because many families were just getting back to school but we really were not seeing this coming at all."
Wilson said the high cost of food is making it more expensive for agencies like hers to keep shelves stocked. According to Statistics Canada data released on Tuesday, the cost of food purchased from stores was up a staggering 10.8 per cent compared with a year ago. It's the fastest increase recorded by the agency since 1981.
"Our prices have gone up just as much as everyone else's so when we're trying to buy food it is still very expensive," she said. "Before COVID we were spending about $2 million a year on food. This coming year we're going to spend $6 million."
Peter Tilley, the CEO of The Ottawa Mission noted the same trend. "Demand is up because people are dealing with inflation," he said. "With that demand increasing comes our need to increase the amount of meals but with that, of course, comes increased costs of close to 15 per cent."
Tilley said three-quarters of the mission's funding comes from private donors and, as everyone tightens their purse strings, donations are down too.
"It feels like we're on the border of a health crisis," Wilson said. "When people don't have food, you will see impacts right across the city and you will see what happens when people are going without food for days on end."
Despite lower overall inflation, higher prices affected nearly every aisle of the grocery store.
Flour prices were up 23.5 per cent last month compared with a year ago while pasta prices rose 20.7 per cent, bread 17.6 per cent, eggs 10.9 per cent, fresh fruit 13.2 per cent and fats and oils 27.7 per cent.
Prices of items that were once considered affordable substitutes are now rising as well. For example, frozen and dried vegetables were up 14.1 per cent while fresh vegetables increased a more modest 9.3 per cent.
A similar trend appears to be unfolding in the meat department.
"A few months ago when beef and pork prices were increasing significantly you could substitute for chicken," said James Orlando, director at TD Economics.
"Now the opposite is happening where beef and pork price inflation is decelerating and chicken prices are increasing."
Recommended from Editorial
Wilson: Vote for candidates who will act on Ottawa's food insecurity crisis

Carlington food bank warns of funding shortfall amid surging demand
Sustained higher prices are prompting Canadians to adopt new shopping habits to save money, a new survey released Tuesday by Dalhousie University's Agri-Food Analytics Lab and Caddle said.
The survey found Canadian consumers are shopping more at discount stores, buying cheaper store brands, using loyalty programs and scouring weekly flyers for deals.
"Food inflation is lingering and is really starting to shape where and how people buy food," said Sylvain Charlebois, professor of food distribution and policy at Dalhousie.
Article content
The survey also found nearly a quarter of Canadians have cut back on the amount of food they purchased within the last year because of high grocery prices.
"Some people are actually buying less food," Charlebois said. "There are dietary compromises being made by many Canadians."
Some relief could be in store as easing input costs reduce pressure on food prices.
"With transportation costs and agricultural commodity prices now off their peaks, the trend in food price inflation should start to soften towards the end of this year and into 2023," Andrew Grantham, senior economist at CIBC Capital Markets, said in a client note Tuesday.
Michael Medline, president and CEO of Sobeys Inc., said during an earnings call last week that grocery store inflation may have peaked in Canada as price increases from food manufacturers stabilize.
Article content
The number and rate of cost increases being passed along to the grocery chain from food suppliers began decreasing in recent weeks, he said.
Grocers have been widely criticized for high food prices in recent months and posting strong earnings throughout the pandemic.
But Michelle Wasylyshen, a spokeswoman with the Retail Council of Canada, said grocers aren't to blame.
Instead, she said vendors such as food manufacturers, processors and wholesalers have passed along unprecedented price increases to grocers in recent months as they face higher costs from their suppliers such as farmers and importers.
Supply chain disruptions, extreme weather events and the invasion of Ukraine have all pushed up costs this year, Wasylyshen said.
With files from The Canadian Press