Seitz takes the helm while Nutrien is benefiting from the tailwind of some of the most favourable market conditions in years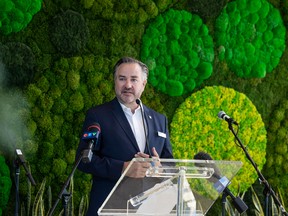 Nutrien Ltd. named Ken Seitz as its next chief executive — the third person to hold the position since April 2021.
Seitz had been acting on an interim basis since January, when the Saskatoon, Sask.-based fertilizer giant abruptly announced the termination of its second chief executive in less than a year without providing any context for either exit.
Unlike his predecessors, Seitz takes the helm while Nutrien is benefiting from the tailwind of some of the most favourable market conditions in years, as potash and other fertilizer prices are highly elevated as a result of supply constraints primarily caused by the fallout from the conflict in Ukraine. Nutrien announced earlier this year that it plans to significantly ramp up its production from six potash mines in Saskatchewan, as it sees the supply constraints persisting into the foreseeable future.
Last week, the company also announced it plans to return $6 billion to shareholders during 2022 through dividends and a share repurchasing program, and Seitz said his approach emphasizes consistency and transparency.
"Our shareholders and stakeholders have experienced, disciplined capital allocation," he said. "And they can absolutely count on the fact that that will continue."
He cited as key strategies the company's expansion of its retail network in Brazil — "one of the breadbaskets of the world" — and its efforts to automate its potash mining.
Seitz told analysts last week in its second-quarter earnings call that the company believes "structural changes to global energy, agriculture and fertilizer markets will provide a supportive environment for Nutrien well beyond 2022."
In June, the company announced that it would aim to produce roughly 15 million tonnes of potash in 2022, up from a record 13.6 million tonnes in 2021. By 2025, the company said it would ratchet up potash production to 18 million tonnes.
The increases all come from brownfield expansions of its six mines in Saskatchewan, and Nutrien has estimated that each additional million tonne above 15 million would cost between US$150 million and US$200 million. The increases also require hiring hundreds of people, and in retrospect, were an early sign that the board of directors trusted Seitz to make investment decisions that would take months, if not years, to play out.
"We have to be convinced that when we spend those dollars, there's going to be a home for those products, a market for them," Seitz said on the analyst call.
Of course, there are headwinds such as inflation, which the company said has thus far been offset by higher commodity prices.
Still, Seitz did not discount that both inflation, and potential shortages in labour, could make his job more difficult.
"I think it's fair to say that we're experiencing those inflationary pressures like just about everyone is now," he said. "So we're managing our costs accordingly."
Labour availability "is certainly a challenge," Seitz said, but he added that Nutrien's welcoming culture and its mission to solve the world's food security and sustainability problems will help it attract talent.
"In terms of the big things we're working on, there's a lot of innovation and a lot of creativity, and we're deploying all of that in the name of food security and sustainability," he said.
Seitz, who grew up on a dairy farm outside Regina, joined Nutrien in October 2019 as executive vice-president of its potash operations, which accounted for US$2.7 billion, or 38 per cent, of its US$7.1 billion in adjusted EBITDA in 2021.
At the time, potash producers were slashing potash production and Seitz replaced Susan Jones, who had been seen as "a potential heir" to then-CEO Chuck Magro before she departed for personal reasons. Then, Magro was abruptly terminated in April 2021.
Seitz, however, was passed over for the CEO position in favour of then-board chair Mayo Schmidt, who was also terminated without explanation in January just eight months into the job.
The departures came as BHP Group Ltd., the world's largest mining company, moved closer to bringing Jansen, a multibillion-dollar potash mine east of Saskatoon, into production later this decade. The Globe and Mail has reported that the exits were related to disagreements with the board about whether to pursue a partnership arrangement.
Although Seitz has only been at Nutrien since 2019, he served for four years as chief executive of Canpotex Ltd., the fertilizer export and marketing company jointly owned by Nutrien and the Mosaic Co., the other large potash producer in Saskatchewan. As such, he had ample familiarity with the company's potash production.
Candace Laing, chief human resources officer at Nutrien, said that Seitz had been a fixture in "the circuit of big Saskatoon companies" for years and as such as was well-known to many people in the company.
"If you look at where he came from with Canpotex, he definitely had in-depth knowledge of potash," said Laing.
Canpotex is headquartered in Saskatoon but has offices in Brazil, Malaysia and China, and manages and operates "a fleet of customized railcars, port terminal facilities, ocean vessels, and more," according to its website.
That would have immersed Seitz in the logistical and other challenges associated with selling millions of tonnes of potash, which represents the largest fertilizer business at Nutrien, above its nitrogen and phosphate businesses. The company also operates a network of retail agricultural outlets, which accounted for US$1.9 billion of its adjusted EBITDA in 2021.
As chief executive, Seitz will oversee nine direct reports, and an executive team that is spread across three cities: The company's global headquarters are in Saskatoon, but it has a corporate office in Calgary and its retail operations are overseen by executives in Colorado. In the past, the lack of executives in Saskatoon, considered the global headquarters, had drawn the ire of provincial officials.
Article content
Seitz cut his teeth as a business executive at Saskatoon-based Cameco Corp., which mines and sells uranium, rising to the role of chief commercial officer during 18 years there. His Cameco career began one summer while pursuing an engineering degree from the University of Saskatchewan.
At the time, Cameco had still not built its McArthur River project in northern Saskatchewan, which would become one of the largest high-grade uranium mines in the world once operational in 1999. Seitz, who holds business and agricultural degrees from the University of Saskatchewan, said he was thrilled to be helping the company evaluate the project.
"They threw me into the deep end like you wouldn't believe — not doing anything unsafe … but they really gave me, as a summer student, a lot of responsibility," Seitz told the Saskatoon Star-Phoenix. "I was doing all this theoretical stuff in school. To go into a corporate setting, building a new mine, and actually be crunching all that math in a practical setting, it was unbelievable actually."

• Email: gfriedman@postmedia.com | Twitter: GabeFriedz
Financial Post Top Stories
Sign up to receive the daily top stories from the Financial Post, a division of Postmedia Network Inc.
By clicking on the sign up button you consent to receive the above newsletter from Postmedia Network Inc. You may unsubscribe any time by clicking on the unsubscribe link at the bottom of our emails. Postmedia Network Inc. | 365 Bloor Street East, Toronto, Ontario, M4W 3L4 | 416-383-2300