Inflation is climbing in the U.S., and Republicans are pointing directly to the policies of President Joe Biden's administration as the driving force.
A group of Senate Republicans held a press conference at the U.S. Capitol Wednesday to address rising consumer costs, urging Biden to encourage less government spending and do more to address the crisis.
"Joe Biden is the president of high prices and one of the defining failures of the Biden presidency is going to be inflation," Wyoming Senator John Barrasso told reporters during the conference.
Their criticisms come as the consumer price index for January rose 7.5 percent compared to a year ago. The data, released by the Labor Department last week, showed core inflation rose at its fastest level in 40 years. Food and energy prices rose 0.9 percent last month while price indexes for household furnishings and used cars jumped 1.3 percent and 1.5 percent, respectively.
The inflation spikes are bad news for Democrats ahead of the 2022 midterm elections, as polls repeatedly show the economy to be the number one issue that voters say will determine how they cast their ballot.
Biden warned Tuesday that inflation could get worse if Russia decided to invade Ukraine, which would prompt severe sanctions on Russia by the U.S. and its NATO allies.
"I will not pretend this will be painless," Biden said during a speech on Ukraine-Russia tensions.
The president has also continued to push for the passage of his Build Back Better agenda, which the administration has said will help lower costs and ease inflationary pressures. The legislation has stalled after facing unanimous opposition from Republicans as well as West Virginia Democratic Senator Joe Manchin.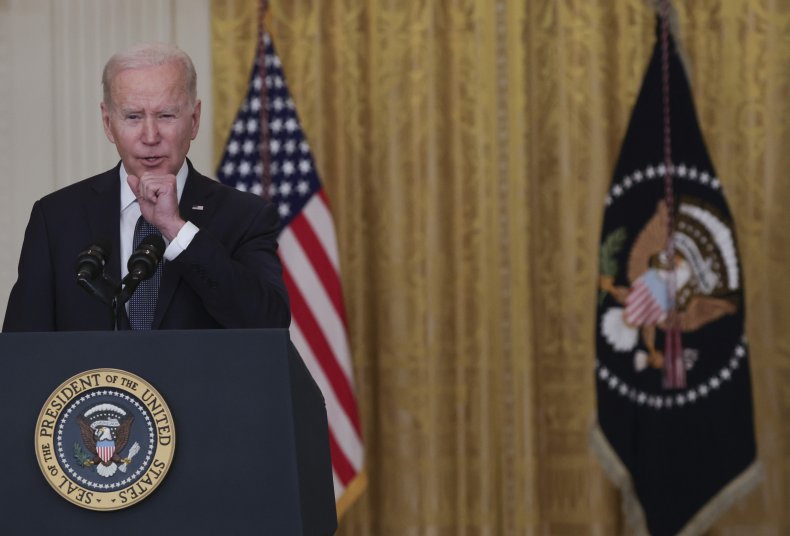 Iowa Republican Senator Chuck Grassley praised Manchin for opposing Build Back Better and for his "fiscal sanity." Manchin said last week that Congress must proceed with caution "before adding more fuel to an economy already on fire."
"I think the best thing that Biden could do would be to use the bully pulpit to tell Congress to spend less, like Manchin has advised his own Democrats to do and he's led the way on that," Grassley said, "because only the bully pulpit can bring confidence to the economy the way that the 100 members of Congress can."
Other proposals from the group of Senate Republicans included reversing the Keystone XL pipeline shutdown, moving forward with a controversial Alaska drilling project, and ending the COVID-19 emergency declaration.
"We can do better than this," Mississippi Senator Cindy Hyde-Smith said Wednesday, "and the American people certainly deserve better than this."
Newsweek has reached out to the White House for comment.