Company is looking to implement the technology in time to meet its 2030 emissions targets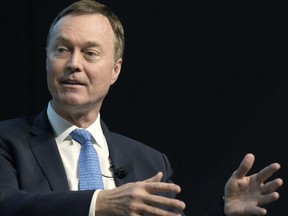 Teck Resources Ltd. will attempt to capture carbon dioxide and other greenhouse gas emissions from its lead, zinc and silver smelter in Trail, B.C. by the middle of 2023, an early step in its pledge to reduce emissions by a third by 2030 and to reach net-zero by 2050.
Carbon capture, utilization and storage (CCUS) is an emerging technology that sequesters CO2 emissions from industrial sites before they are released into the atmosphere, and instead permanently stores them underground. Already, captured CO2 can be used for enhanced oil recovery and in the future, companies hope to develop technology to repurpose the gas into new products such as jet fuel.
The technology has been touted by resource companies across Canada as a means to continue operating as climate change intensifies, particularly the oil and gas sector, which accounted for 27 per cent of the country's greenhouse gas emissions in 2020. Still, Teck chief executive Don Lindsay described it as an early stage project, and key questions about how it will work need to be answered. The company plans to start with a test project in Trail before committing to go all-in on CCUS.
"This carbon capture pilot is an important step towards our knowledge building for the application of carbon capture, utilization and storage as an emissions reduction solution," Lindsay said in a press release.
If successful, the project could be scaled up to an industrial CCUS plant
The pilot plant will capture about 1,100 tonnes of carbon dioxide per year from the acid plant flue gas.
"If successful, the project could be scaled up to an industrial CCUS plant with the potential to capture over 100,000 tonnes of CO2 per year at Trail Operations, the equivalent emissions of more than 20,000 cars," the company said.
Sepanta Dorri, vice-president of decarbonization at Teck, said the technology to capture gases from the acid plant flue gas is similar to what is used in western Canada, including at the Boundary Dam coal plant in Saskatchewan, and fairly straightforward.
But she said Teck would spend the next six to 12 months studying what to do with the CO2 and other gases captured, including whether it could be safely stored in underground reservoirs in the area, and whether it could be repurposed and sold as a feedstock to an industrial company. Making it economically viable is key, said Dorri.
"For the pilot, what becomes more challenging is at a large scale, how would you utilize all of the captured carbon," she said. "Our full scale facility will be contemplating more than 100,000 tonnes of carbon capture and that's where looking at different utilization solutions."
There would likely be feasibility studies after the pilot project before the technology is adopted at scale, she said, noting the company is looking to implement the technology in time to meet its 2030 emissions targets.
For the pilot, what becomes more challenging is at a large scale, how would you utilize all of the captured carbon
In Alberta, oil producers say the province's geology is uniquely suited for storing CO2, citing large scale projects such as Shell's Quest facility near Edmonton, which has stored an estimated six million tonnes of CO2 since 2015.
Whether Southern B.C.'s geology is also suited for permanent gas storage will likely determine whether Teck scales up carbon capture in Trail to industrial levels.
Teck said it expects the pilot project to cost as much as $15 million. The CleanBC Industry Fund, a provincial fund that invests carbon tax revenue to help companies reduce emissions, has contributed $350,000 towards a study of using carbon capture at Teck's Trail operations.
Scaling the project could cost hundreds of millions of dollars, the company said.
In addition to cutting its own direct and indirect emissions, the company also said it would like to cut its scope 3 emissions by 30 per cent by 2030. Scope 3 refers to emissions outside an organization's control and Dorri said the majority of Teck's scope 3 emissions come from selling coal to steelmaking blast furnaces.
"We're working with our customers to use the learning from our Trail carbon capture pilot, and apply it to a carbon capture facility for their (steelmaking) blast furnaces," she said. "If we can help incentivize their adoption of carbon capture within their blast furnaces, then, from a holistic value chain perspective, we will have gone a long way to helping decarbonize steel making coal."
Since 2019, Teck has received more than $2.2 million from CleanBC Industry to convert diesel buses and trucks to electric or lower-emission vehicles and for other emission reductions initiatives at its steelmaking coal and lead and zinc operations.
According to Teck's 2021 Sustainability Index, its lead and zinc operations, which include the smelter complex and mines in Southern B.C. and Alaska, sits in the middle of its portfolio in terms of emissions intensity — less carbon emissive on a relative basis than its copper operations, but more emissive than its steelmaking coal.
Teck's lead and zinc operations emitted 0.64 tonnes of carbon dioxide equivalent per tonne produced compared to 1.63 tonnes for copper and 0.08 for steelmaking coal.
The company did not provide data in that report about the overall emissions from any of its operations, just intensity data. It also excluded data about its Fort Hills oilsands operations in Alberta, in which it has a 21.3 per cent minority stake and is operated by Suncor Energy Inc.
Teck has long talked about efforts to clean up its Trail operations. In the past, workers at the complex said nurses would occasionally draw their blood to test for lead. People with higher lead levels would be moved to other parts of the complex.
The smelter complex runs on hydroelectricity generated by the nearby Waneta Dam, which Teck sold to B.C. Hydro in 2018 for $1.2 billion. It negotiated a 20-year leaseback of electricity at below-market rates, with the option for a 10-year extension.
Two years later, Teck pledged to reduce carbon emissions to net-zero by 2050. The dam had previously generated more power than the company needed, and might have helped it reduce its emissions profile.
Article content
In 2021, Teck still derived 47 per cent of its $13.5 billion in revenue from steelmaking coal; 26 per cent of revenue came from its zinc business, 23 per cent from copper, and the remainder from oil. Teck has said it is rebalancing its portfolio towards low-carbon metals, particularly copper, which is considered key for the energy transition because of its conductive properties and use in electric vehicles and the grid.
Teck aims to double its copper production in 2023 when its Quebrada Blanca mine expansion project in Chile comes online.
• Email: gfriedman@postmedia.com | Twitter: GabeFriedz
If you like this story sign up for FP Energy Newsletter.

_____________________________________________________________
Financial Post Top Stories
Sign up to receive the daily top stories from the Financial Post, a division of Postmedia Network Inc.
By clicking on the sign up button you consent to receive the above newsletter from Postmedia Network Inc. You may unsubscribe any time by clicking on the unsubscribe link at the bottom of our emails. Postmedia Network Inc. | 365 Bloor Street East, Toronto, Ontario, M4W 3L4 | 416-383-2300